This May, the San Mateo Highlands neighborhood is holding an Eichler Home Tour –not the first such tour (it also ran in 2006 and 2014) but it promises to be the best. It's been labeled the "Pure Tour" by our friends at the Eichler Network, and with good reason –ten carefully curated homes are featured, each staying true to the Eichler aesthetic we all know and love.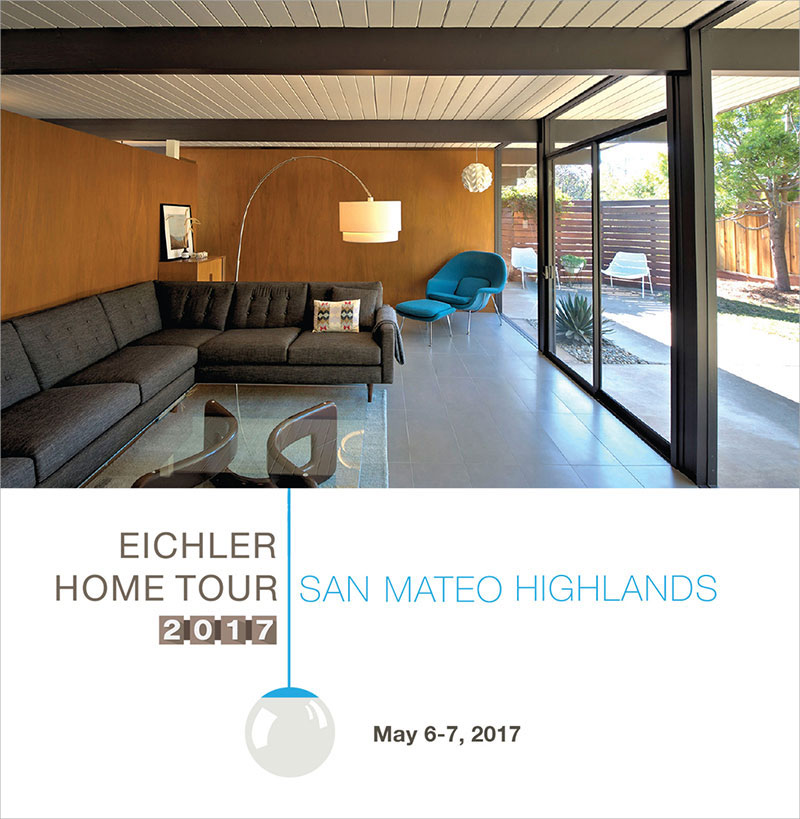 The tour runs Saturday 6 May–Sunday 7 May, 10am–3pm both days. And we advise you take the whole weekend, as there's so much to see. The Highlands development comprises around 700 homes, making it the largest contiguous collection of Eichlers. Among them, a handful of original two-story homes, like this rare 1965 Claude Oakland model, featured on the tour.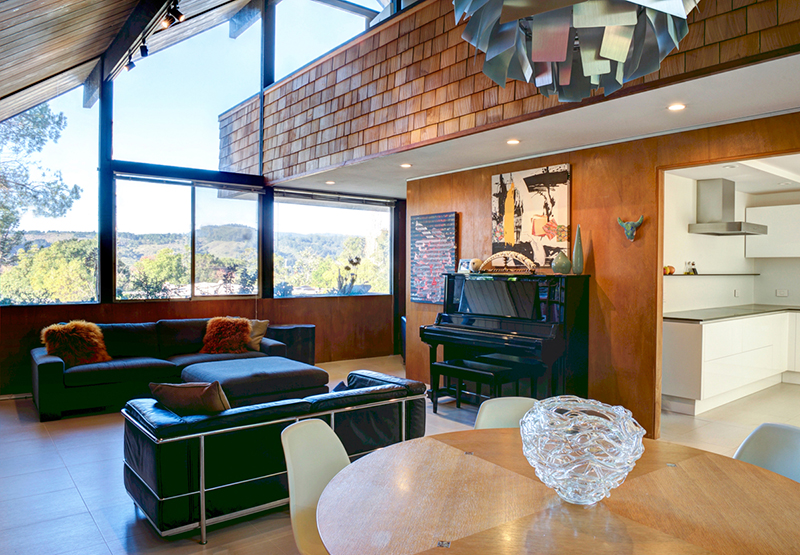 Much of the Highlands was built in the mid-fifties, around the same time as our own neighborhood, so most of the homes look very familiar to us. In fact, the original sales brochure (found here) features the 3-bed version of our model, shown in all but the top-left pic, below.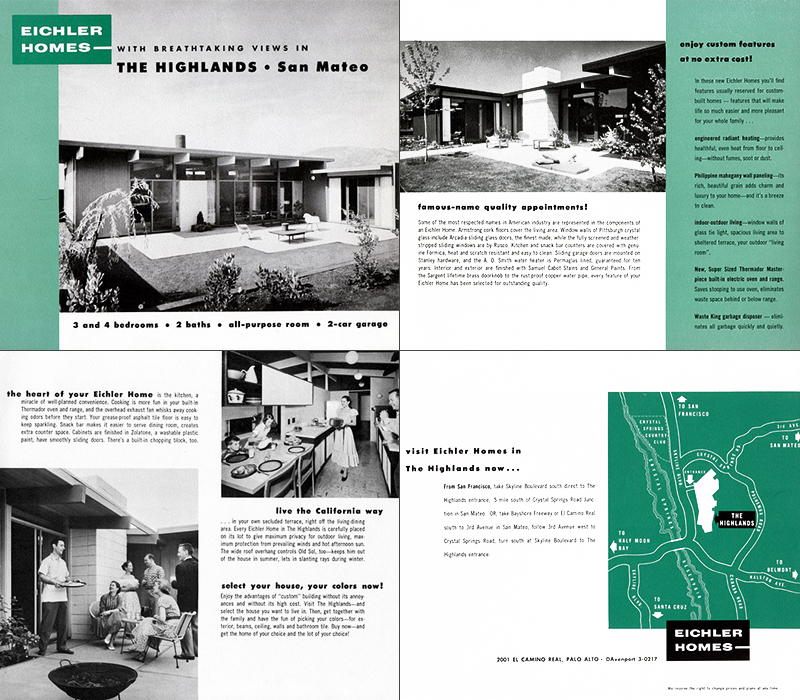 The other model shown above (and also found in our neighborhood) is a flat-top, much like this gorgeous example, belonging to lead tour organizer, Jim Palmer. Just look at all that rich mahogany paneling. Yum! Three friends here in Sac own almost identical models, with the odd variation…which we're more than happy to geek-out over.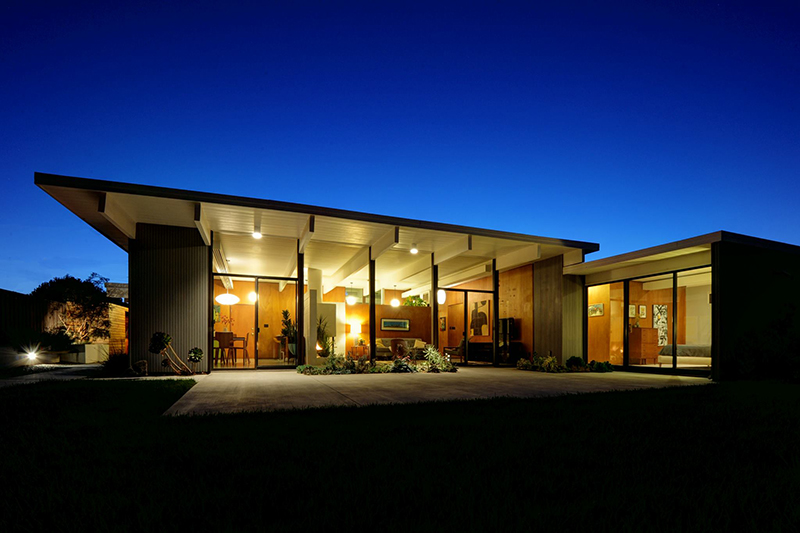 Here's another stunning home, featured on the tour. Love this long line of original globe lights. The kitchen has been mostly preserved, with original cabinets, plus tasteful updates, retaining the intended Eichler feel.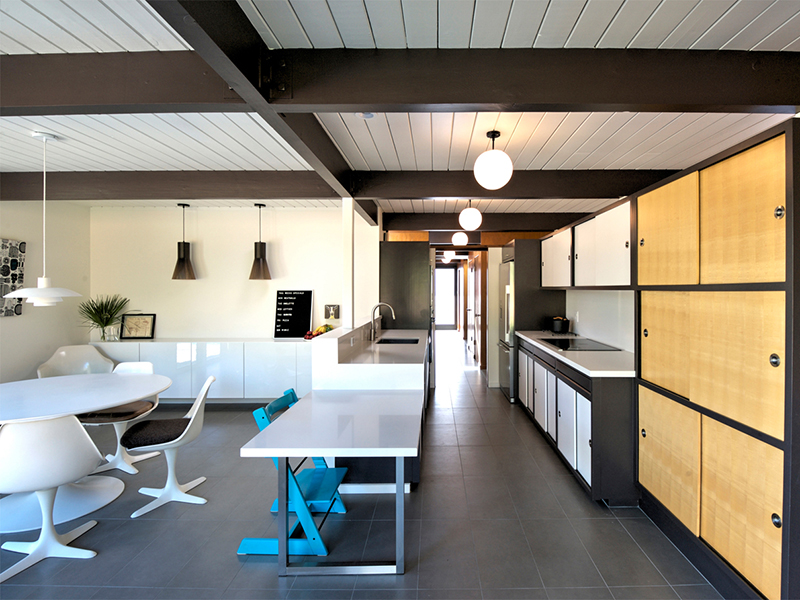 Talking of updates, check out this glass-walled shower, installed by one adventurous tour home-owner –talk about connection to the outdoors. And while this feature isn't strictly 'Eichler', it's certainly impressive.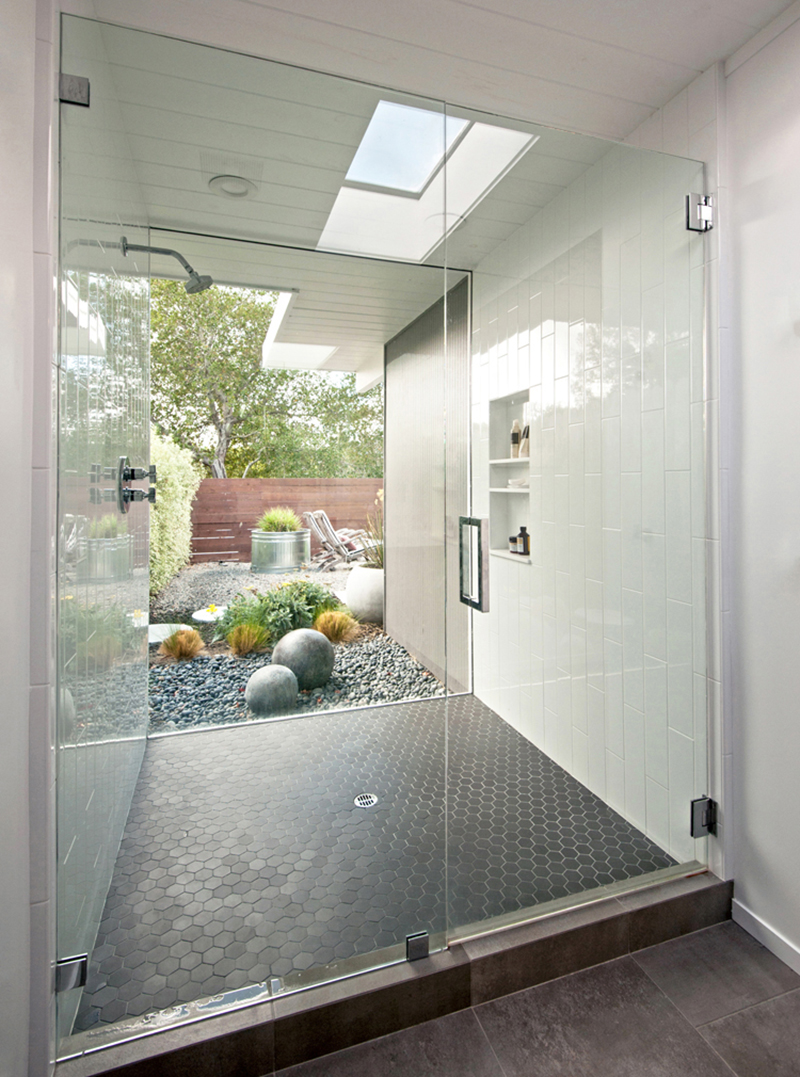 While touring the neighborhood, you should make time for the X-100 Eichler –the steel-framed "House of the Future", designed by A. Quincy Jones, and built in 1956. If you haven't seen it before (and even if you have) check out this historic newsreel footage, promoting this experimental research home.
Another neighborhood treasure is the LIFE House, designed for LIFE Magazine by Pietro Belluschi, and built by Eichler in 1958. It won't be open for the tour (not that we've heard, anyway) but definitely worth a look. Photo: Ernie Braun (re-photographed, from the pages of this well known Eichler book).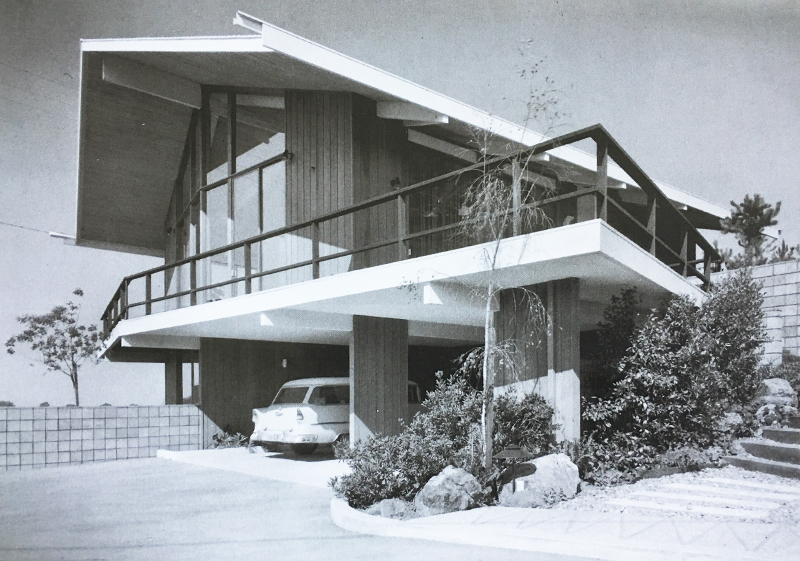 There's a VIP party Saturday night, including complimentary drinks/food, at this gorgeous double A-frame, in nearby Burlingame. The house is owned by a friend of FogModern (hi Drewry!) and was remodeled in conjunction with Eichler specialists, Klopf Architecture. Limited tickets available here.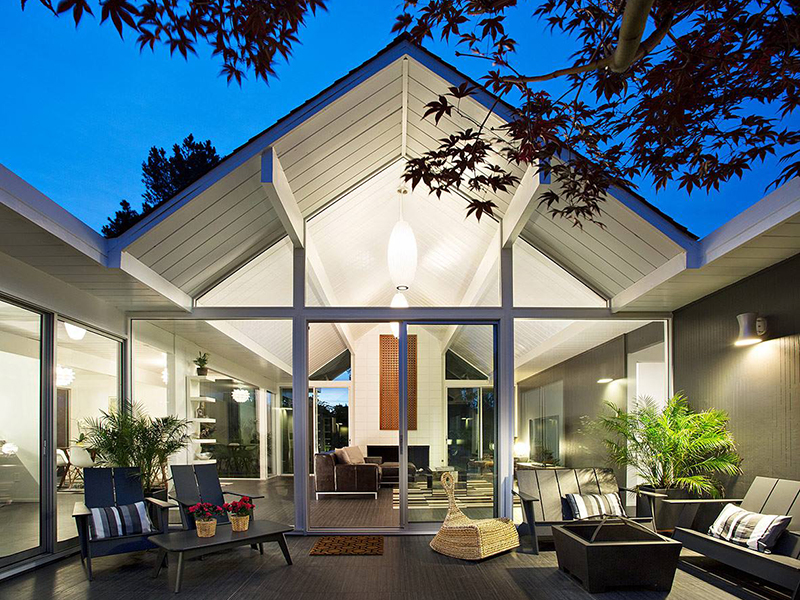 Main tour tickets are $60 for a single day / $100 for a two-day pass, available here. Naturally, we'll be going, and we hope to see you there –do let us know if you can make it, and we'll arrange to say "hi". Tour home photography by Brad and Margo Richter, courtesy San Mateo Eichler Home Tour.
Save
Save
Save
Save
Save
Save
Save
Save
Save
Save
Save
Save
Save
Save
Save
Save
Save