Beyond our typical geography, but within our comfort zone, this modernist masterpiece in Kenilworth, England. Designed in 1965 by local architect, Robert Harvey, this sprawling home sits on 1.2 acres, with archetypal rolling-hill views. Here's the house street-side. The central/lower portion is a 3-bay carport, and the right-hand stone wall houses a circular swimming pool…more on that later.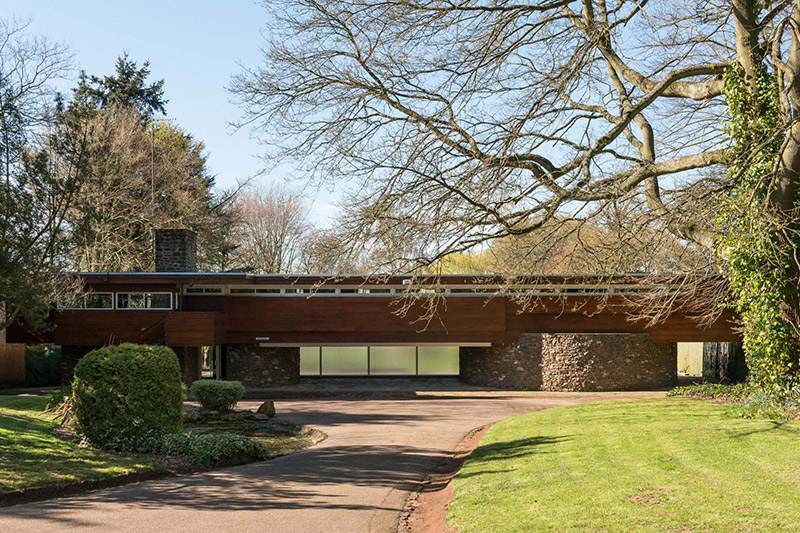 Completing the ground floor, an entrance hall (to the left) with washroom. Up above, a large living/dining area, with separate kitchen, and a further washroom. A glass walled "winter garden" adjoins a long terrace, flanking the bedroom wing, with five beds, and two full baths. Though this home is a substantial 3650 SqFt, planning exists to more than double that [click plan to zoom].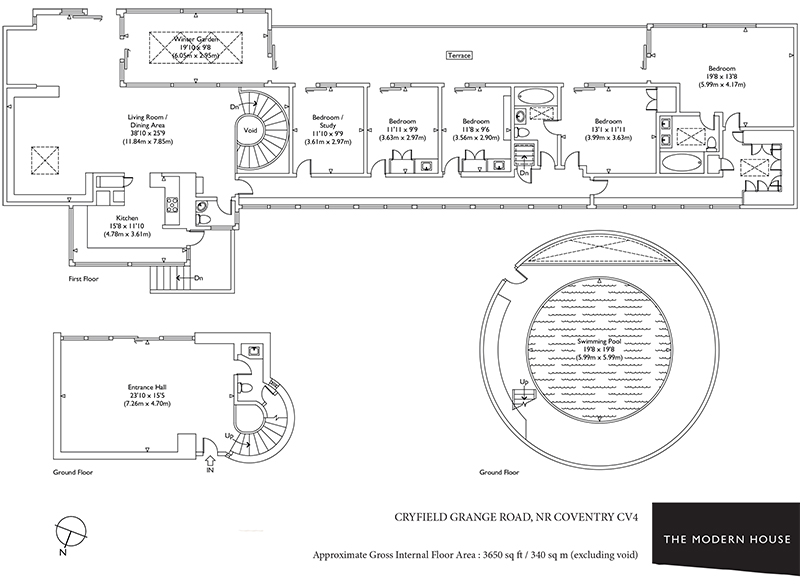 Interestingly, Karen grew up nearby…in a more modest dwelling. We plan to drive by, next time we visit family. The home is fairly private up-front –a long line of clerestories span most of the width, with only the kitchen (up the stairs) having eye-level windows. Don't fret, there's plenty more glass out back. That ground floor door leads to the entrance hall.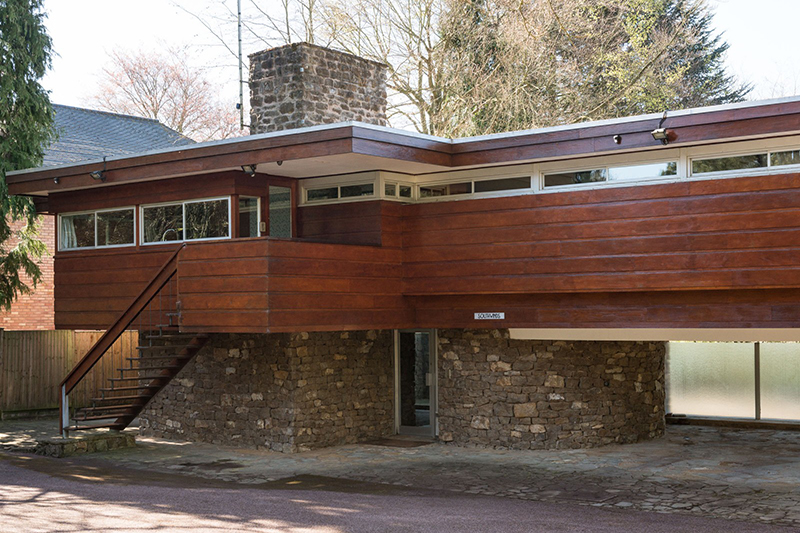 And here it is –bigger than most people's living room , and would make a great game/play room. I'm dreaming of a pool table in here. Love the mix of materials –concrete slab foundation, rubble-stone walling, and coffered concrete ceilings, cast from a fiberglass mould. A spiral staircase leads to the main living area.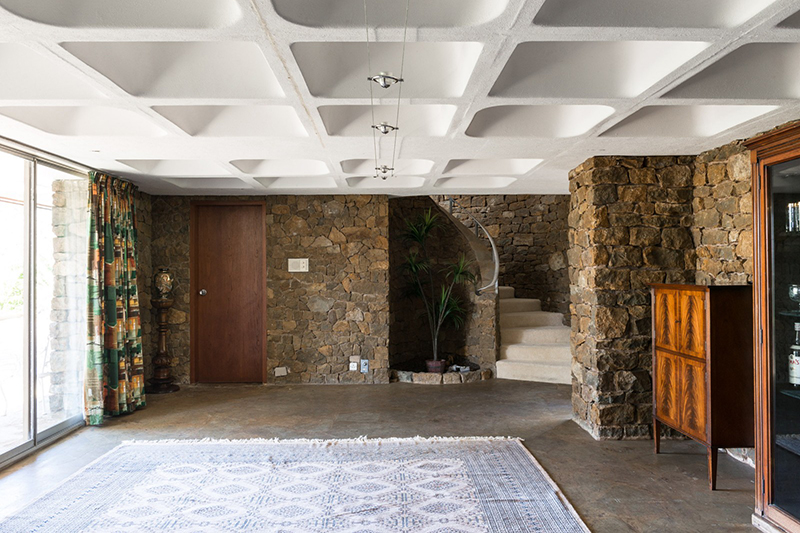 Upstairs, the space really opens up, and connects to the outdoors, with a wall of glass, spanning the entire back/south-facing portion, and flooding the area with light. The ceilings are tropical hardwood, and the walls are a mix of thin cork tile, and teak/rosewood paneling.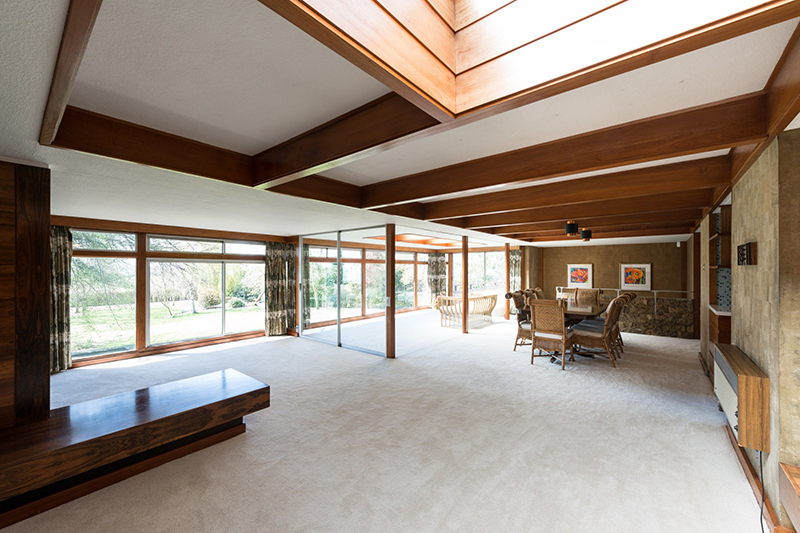 Though open, the design allows for defined areas, like this living room nook (where the previous pic was taken from). Evidence of real craftsmanship here –note the mix of tectures/materials, the built-in storage, and the large skylight, built into the wood-framed ceiling. Very nice.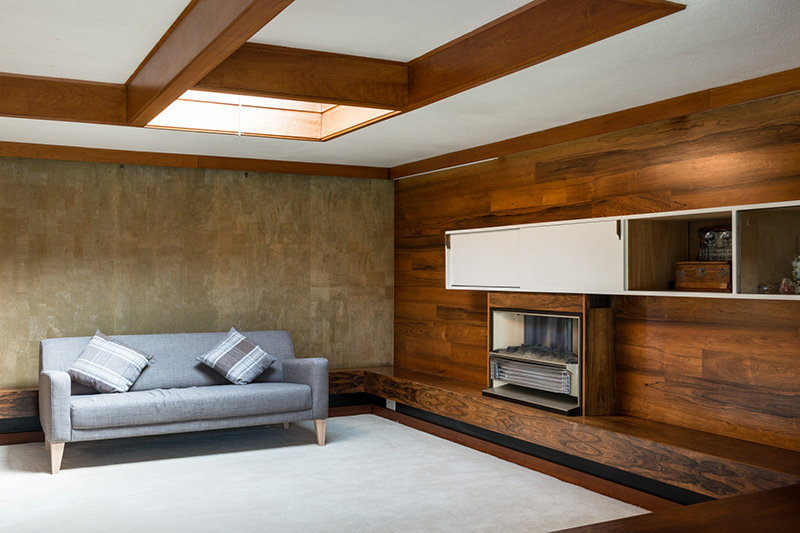 Love these light fixtures too. And that's a wall-mounted intercom (on the right) –still operational, I believe. The kitchen is somewhat separate, but connected to the living space, just through that gap. The second opening accesses a corridor, running beside the bedroom wing, where the span of clerestories are.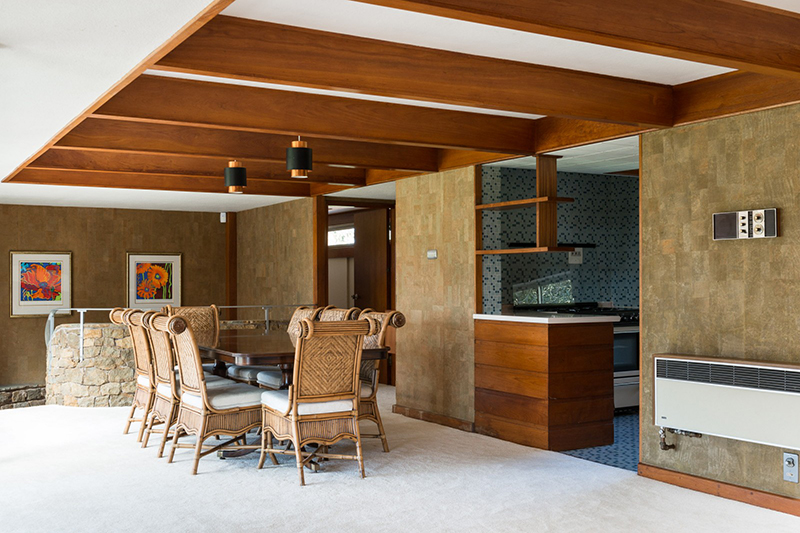 In the kitchen, the rich wood cabinetry all seems original, though the appliances don't. As you probably know, most English homes have a washing machine in the kitchen…even in high-end homes like this. Truthfully, I'm a little surprised there's no separate laundry room. Certainly space, if desired.
Love this mosaic tile, on the floor and walls…though I can think of at least one person who'd struggle to live with it. Nice view out from the kitchen, across the dining area, into the winter garden, and beyond.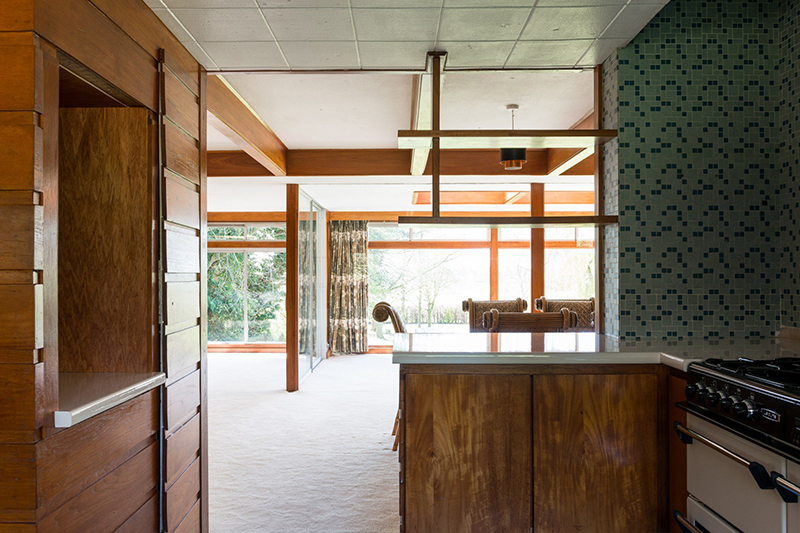 This glass-enclosed space allows even more outdoor connection, without exposure to the elements –makes perfect sense, in light of the (typically terrible) English weather. More skylights above. This would be a great place to hang out, no?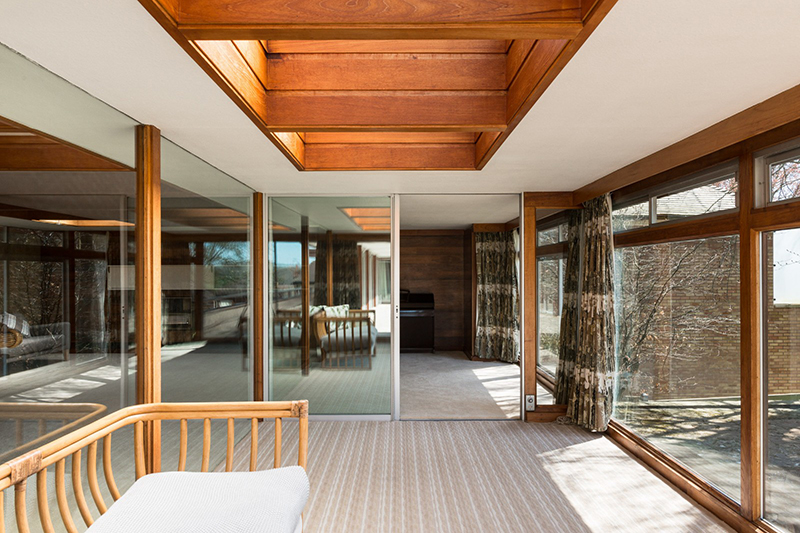 The winter garden leads to the outdoor terrace, running alongside the bedroom wing. There's a partial overhang, so you can avoid the rain, on your journey to breakfast. Love how this blurs indoor/outdoor, leading your eye from inside to out…and back again. So well designed.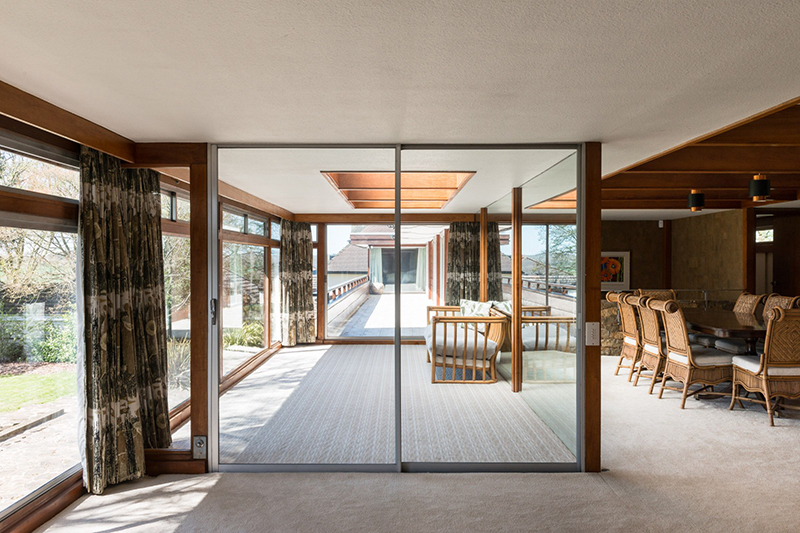 The terrace terminates at the master –the largest of five bedrooms, with plenty of built-ins, the same 'woody' feel prevalent throughout, and great views of the substantial outdoor space.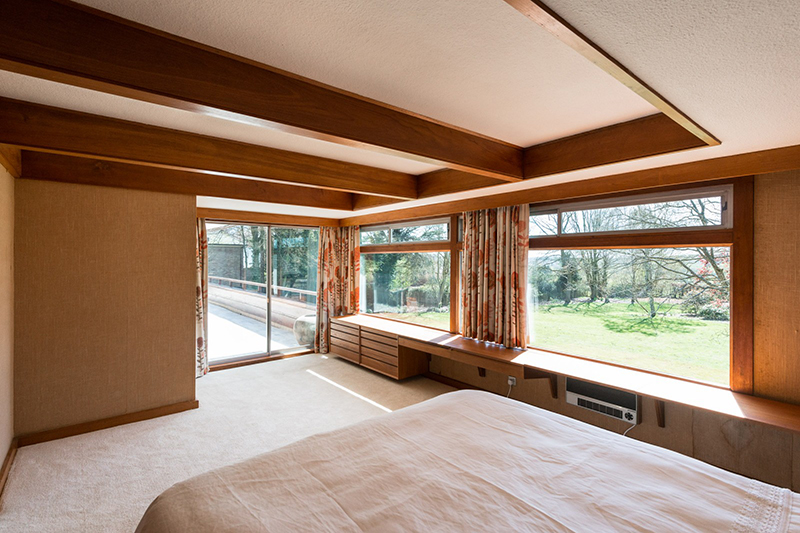 There's an en-suite bathroom, with more sumptuous wood, and another skylight –love how these are part of the design, rather than looking like later add-ons, as often happens. Interesting scalloped detail on the bath. Looks like a matching pink toilet too. And the double-sink/cabinet is impressive.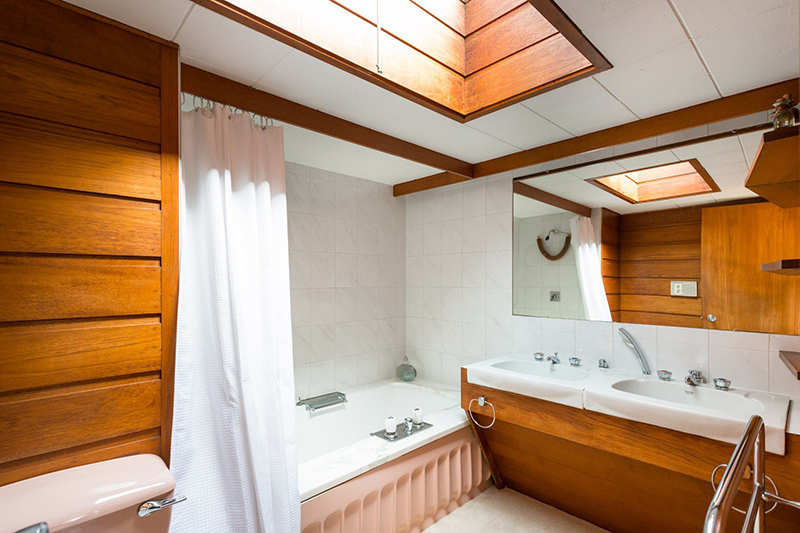 You'd better like wood if you buy this home –there's yet more in the adjacent walk-in closet. Very nice.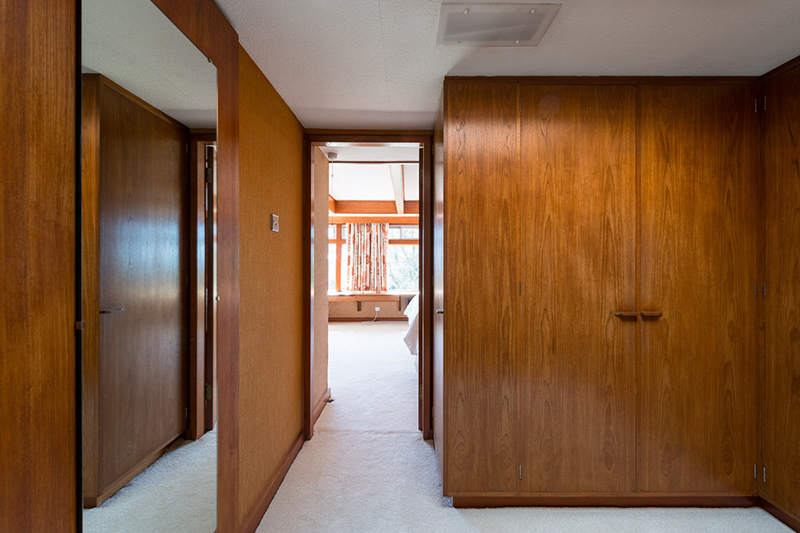 Four more bedrooms each overlook the terrace, with slider access. This is the second bedroom…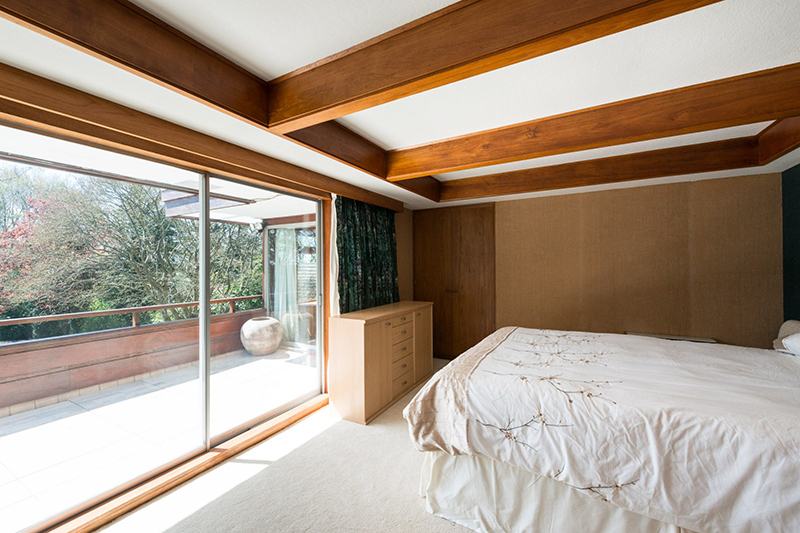 …also with an en-suite bathroom. Another skylight here, same cool sink design, and more mosaic tile.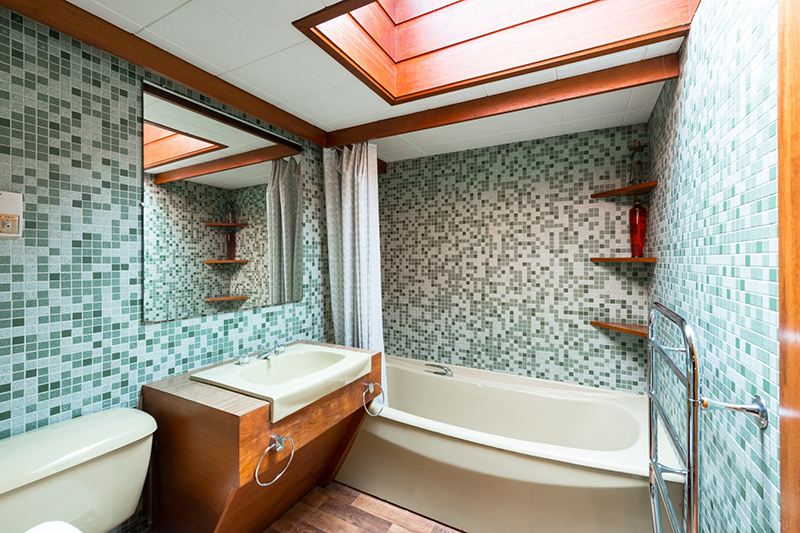 Now, about that pool. Same cool concrete ceilings as the rest of the ground floor, but with a distinctly blue hue. Reminds me very much of the DC Metro. Would prefer more light in here, but it does look like a Bond villain hideout. Which is kinda cool.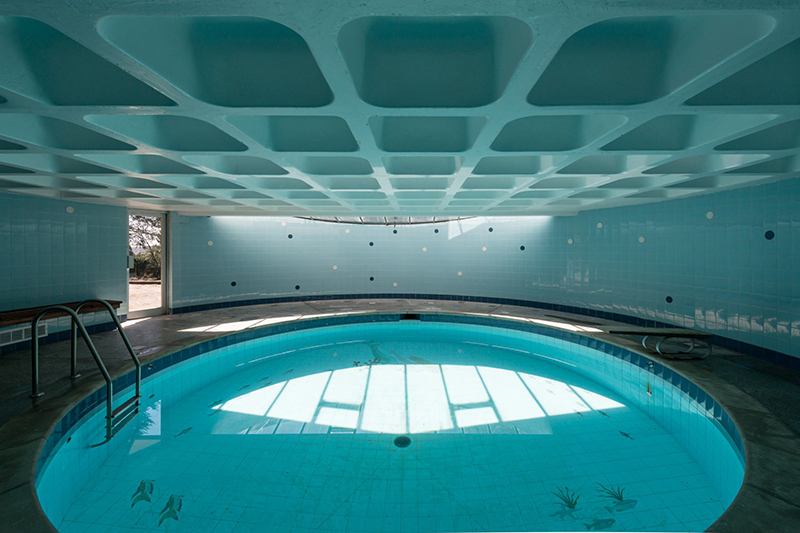 But despite luxurious features, lavish finishes, expansive glass, and impressive scale, this home feels surprisingly restrained. Apparently, Harvey was given "a generous budget" and "no interference in the design", so it's to his credit. The location is pretty sweet too.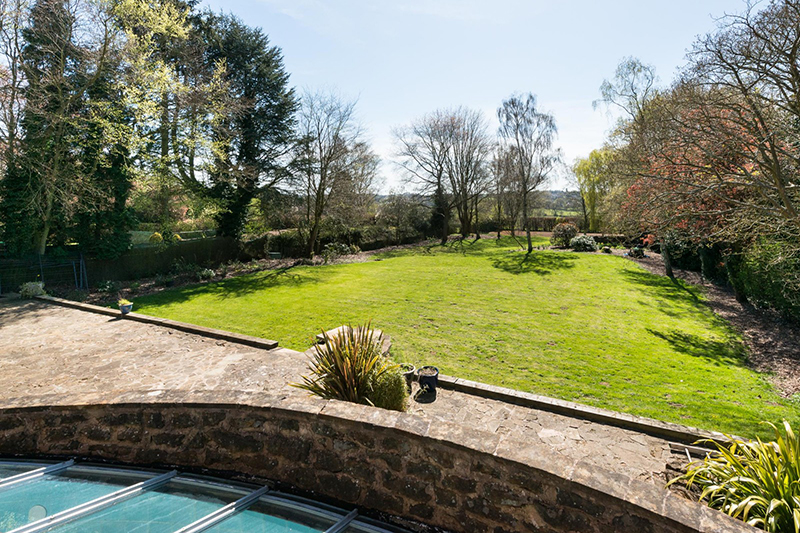 More design kudos via this vintage Jaguar promo, shot in front of the house. If we bought this house we'd have to get this printed/mounted somewhere. Maybe the game room…now I am dreaming.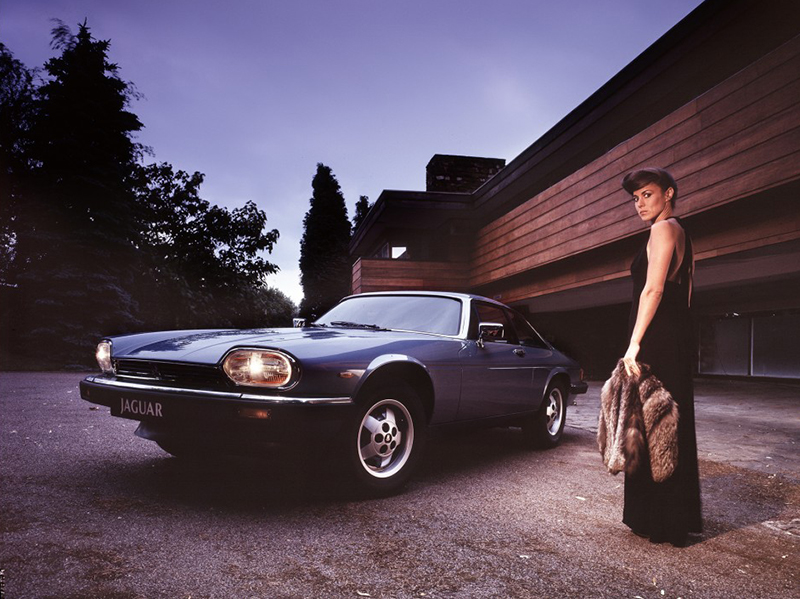 The home has been Grade II Listed, in recognition of its architectural significance. Historic England highlighted Harvey's "considerable attention to detail" and "use of high quality materials", while also noting the influence of Frank Lloyd Wright. Read more about Harvey and the home's history here.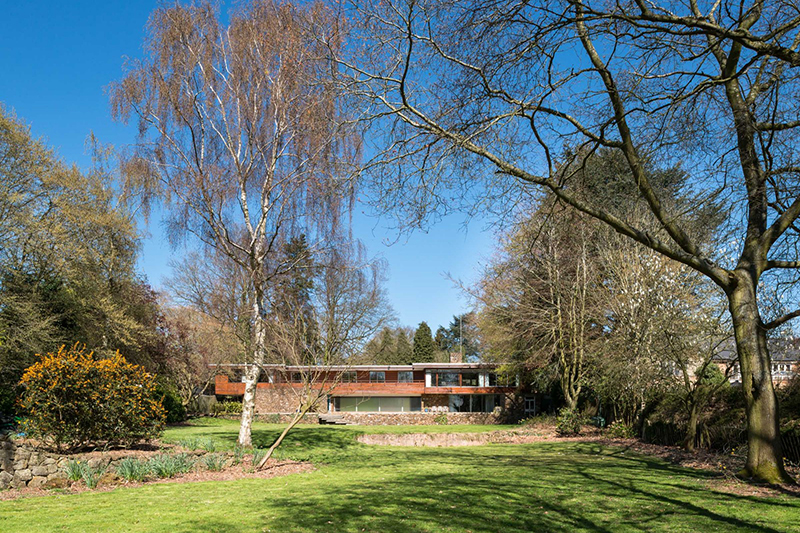 Offered for £1,395,000 (about $1.7M currently) by The Modern House, who kindly allowed us to post these images (thanks guys!). There aren't vast numbers of modernist homes in the UK, so it's always a treat to find one, particularly with this much architectural pedigree. Hope it finds the right buyer.
Save
Save
Save
Save
Save
Save
Save
Save
Save
Save
Save
Save
Save
Save
Save
Save
Save
Save
Save
Save
Save
Save
Save
Save
Save
Save
Save
Save
Save
Save
Save
Save
Save
Save
Save
Save