Today is Boxing Day, a holiday in England, so we're taking it easy. Perfect opportunity to post this (imaginatively titled) sequel –you may remember last year's post, illustrating our failure to match neighbors' festive efforts. This year, we were determined to do better.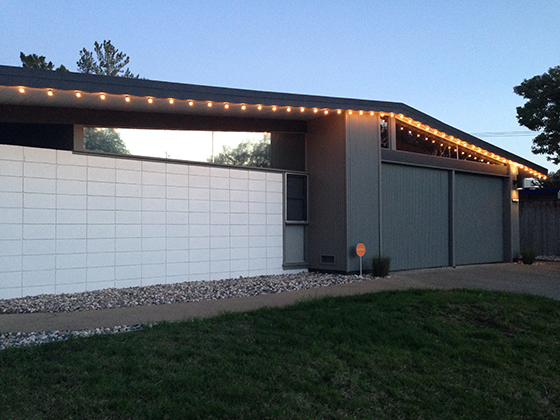 We hung our lights at Thanksgiving (with leaves still on the trees), stapling string on the fascia reverse, and hooking the bulbs in place. We'll replace the string with something more sturdy (fishing wire perhaps?) and paint over it when we tackle the ceilings.
Changes inside too –a bigger tree than last year, thanks to Kelly & G, our kind (truck-owning) friends/neighbors. Last year's was the biggest we could fit in our MINI. We love how Doug (our real tree) smells, but next year's will likely be more MCM-appropriate.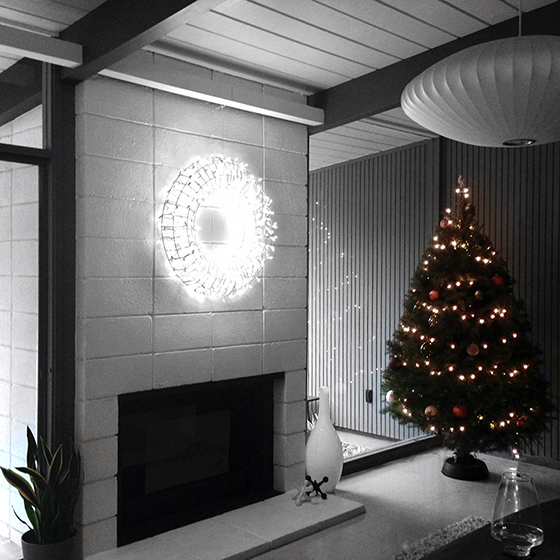 We also added a wire wreath above our fireplace (bought from CB2, last January) and wrapped it with lights. We plan to hang this at the front of our house next year, once we install a fence and secondary front door. This Ethanol-fueled fire is also new.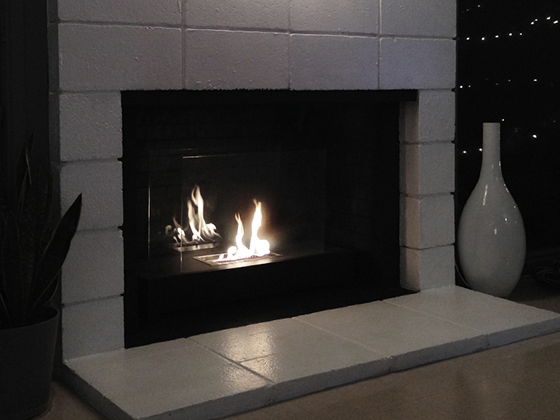 The fire is low on heat, but looks good, fits perfectly, and needs no clean-up –works for us. A year of change in the neighborhood too, with four new Eichler owners, including Frank, who completely upstaged us with these alternate red/white lights, along his pitch/cinder-block wall.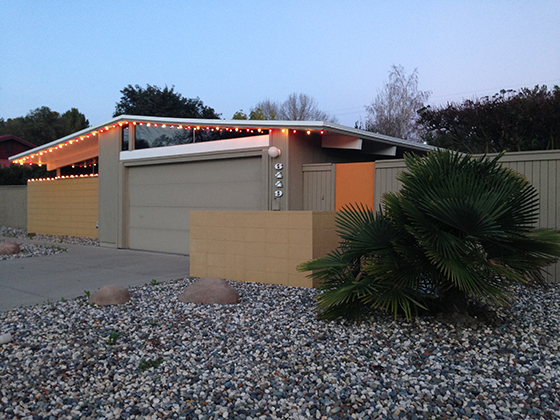 We'll probably definitely steal that idea next year, and switch half our bulbs for green. Seeing Kelly & G's lights (below) last year made us feel very inadequate, and they're equally stunning this time. I'm also jealous of how straight the bulbs are on both these houses.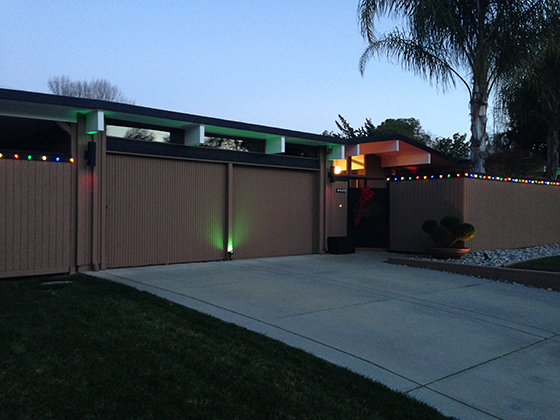 Love how people emphasize the architectural form of each model. Others just use what they have –this bush, for example, was begging for some sparkle. Nancy's home also has the most stunning landscaping addition, which you can see more of here.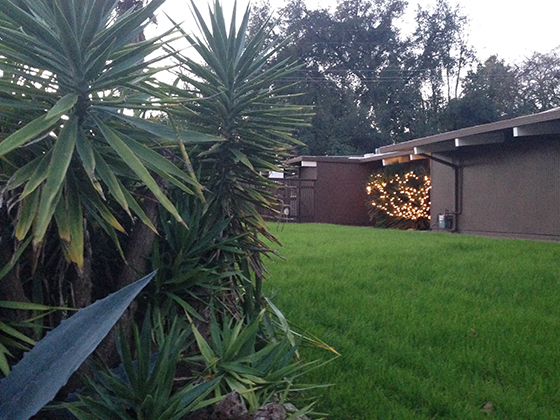 Randy's another new owner, who's done plenty to his Eichler since arriving. These lights hug the pitch, like ours, but extend all the way around the side –visible from the street on this big corner lot. Kudos, as it took us long enough just to string-up the front lights.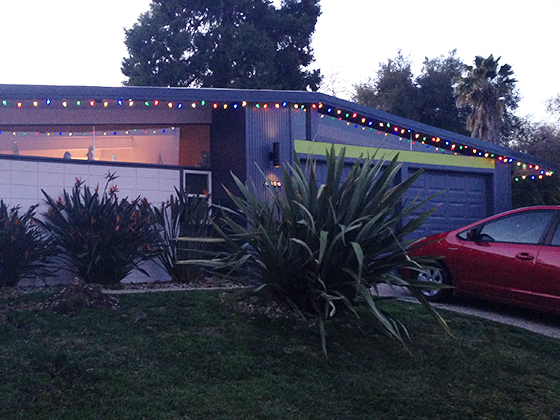 I've been admiring Zann and Jeff's lights (below) for a while, but they were off on Christmas Day –I took this pic on New Year's Day (I'm all about holiday photography). Love the effect created by placing lights behind opaque glass –another element we may have to copy next year.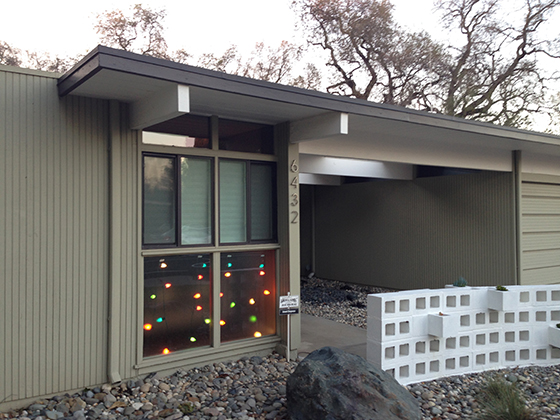 Most of the Eichlers in our street have holiday lights, but not many on the parallel roads behind, which is a shame. This Eichler is an exception, albeit a subtle one. I love this flat-roofed model, and always admire it when we walk the neighborhood.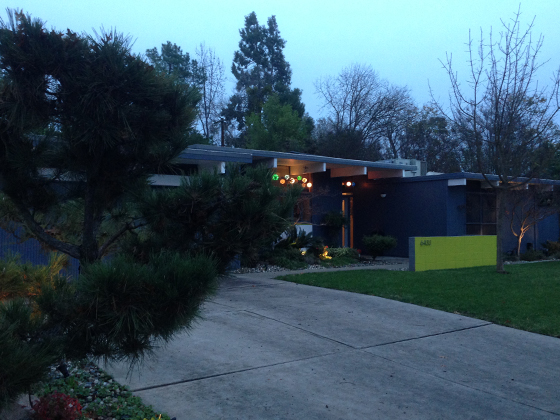 I planned to feature more homes, but either they weren't lit up during my Christmas Day walk, or the pics turned out too bad. So that's your lot. Just time to share one of my favorite gifts from yesterday –these Christmassy slippers –as cozy and comfy as they look.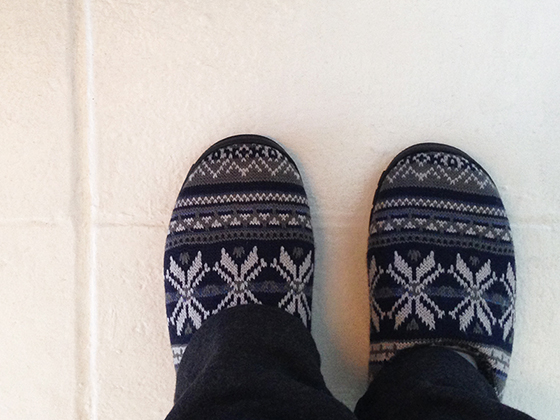 Hope you had a warm and magical Christmas Day. Unsurprisingly, we're planning a few projects over the festive period, putting me even further behind on posting. I'll aim to squeeze one in before the new year –just in case, have a good one!