We're used to small yards (or "gardens" as us Brits call 'em) so our outdoor space is a little overwhelming. It spans four areas; front and back yards (both with scruffy-looking lawns), a side patio (where we spend most outdoor time) and this entrance jungle courtyard.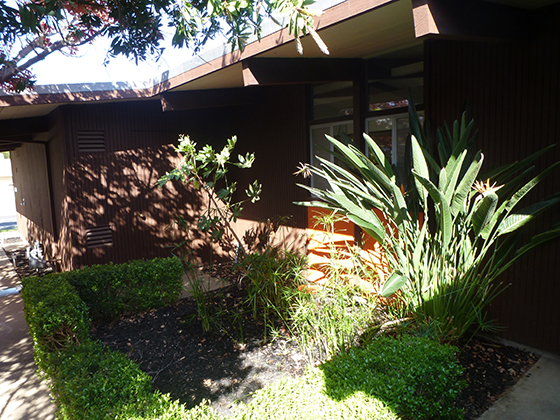 We've roughed-out simple plans for all four areas (which I'll share over the coming weeks) but this post focuses on the courtyard –by far the smallest area. I've split the plan into two sections –this shows the path from our driveway, running alongside the garage.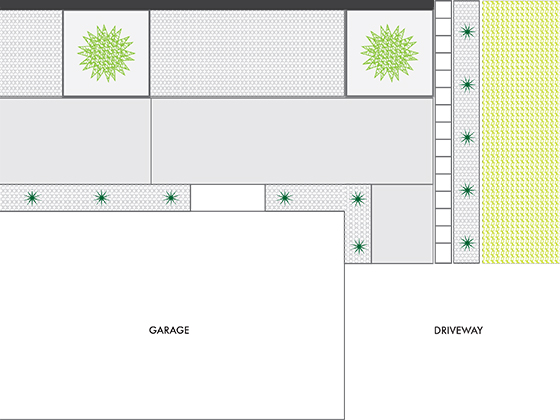 We'd like to create some privacy, by adding a cinder-block wall (as some neighbors have done) with low planting in front –something that will tolerate afternoon sun. Our steep driveway puts us way above street level, so the wall needn't be too high.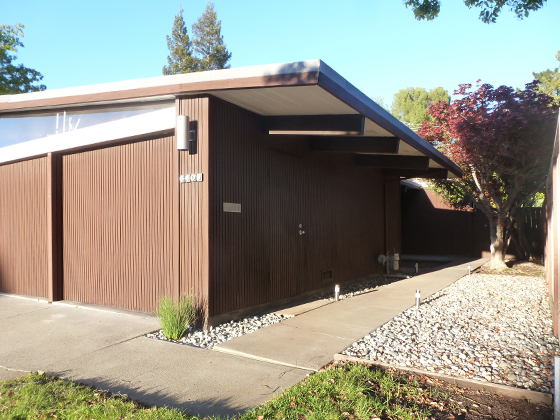 To the left of the path, we'll plant a few grasses (like the one above). The right side is up for grabs, though we're thinking spiky and symmetrical. The next section shows the entrance area, where the path wraps around the bush-flanked square, to the front door.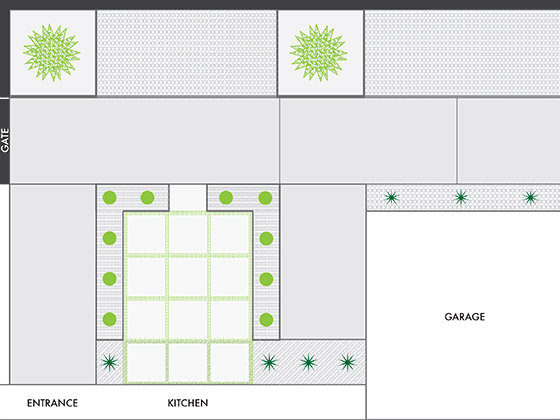 We'll create cactus or fescue planting areas on the corners, to mimic the existing strip alongside the garage. We'll lay concrete pavers on the rest, with rock in-between. Then we'll add free-standing planters (likely bullet) plus a low bench, so we can admire our work.
Back in the real world, we had to navigate this ensemble. We see this bush every day, from our kitchen window, and walk past it each time we leave. We're reluctant to remove too much green, but the time had come. It needs to get worse before it gets better.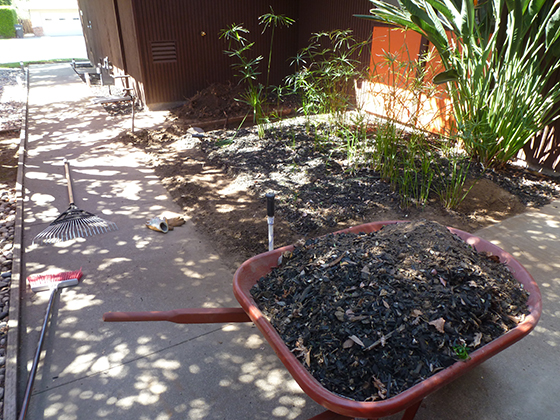 We quickly dispatched the small tree (back-left) too. But we wanted to save some stuff, including the umbrella plants. Apparently, they've grown here since the house was built, so we carefully moved them to a west-facing spot in our back yard.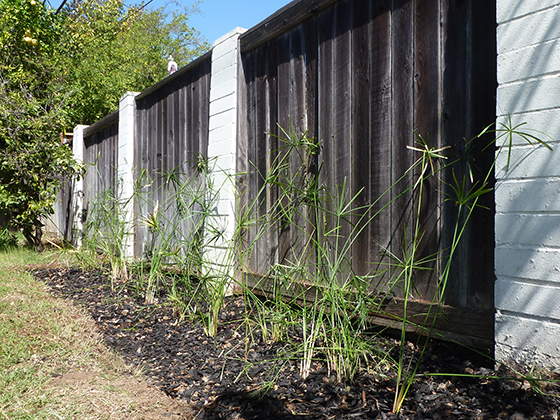 Since then, some have died, but there's been plenty of new growth. We're hopeful. Next, digging, digging, and more digging, until all that remained was this Bird of Paradise. I say all –it's a mammoth plant, which had outgrown this restricted corner.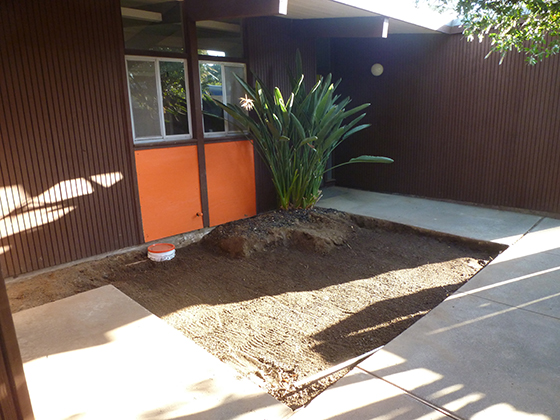 So, we (optimistically) decided to transplant it. We identified a spot at the side of our house, where the plant will get morning sun and afternoon shade. We dug this out, adding to our growing dirt pile. We figured on splitting it into three, hence the holes.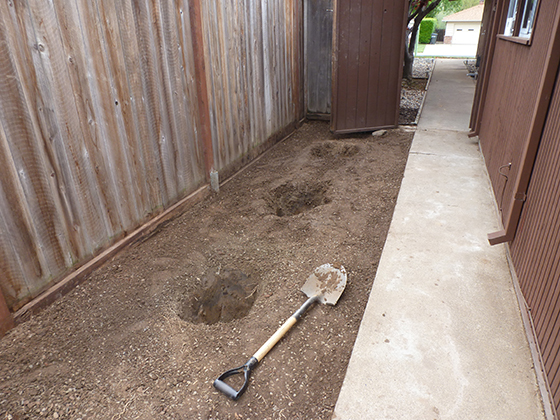 With the new abode prepped, we couldn't put it off any longer. First we tried unearthing the entire plant, archeological dig-style. Then some (green-fingered) friends dropped by, told us we needn't be so careful, and lent us a pick axe –thanks Kelly & G!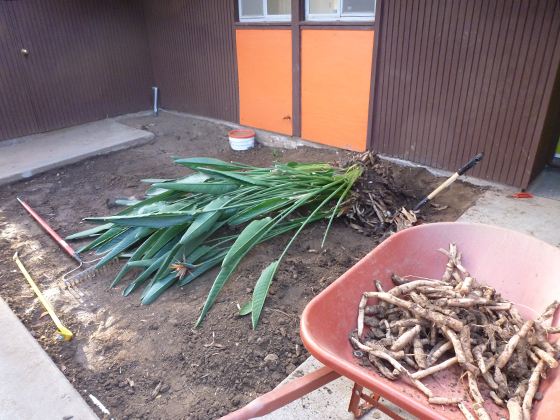 It still took a while, and we lost many roots and shoots along the way, but we retained what looked like a salvageable plant. We had a few teething troubles, as the trio adjusted to their new locale, but (a week or so later) they are settling in. Clearly, we need to add some rock.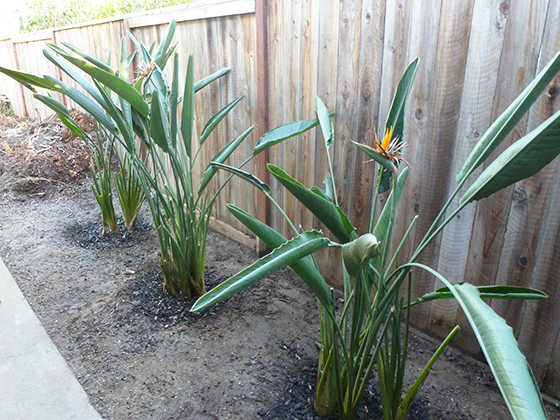 Back in the courtyard, we considered the right-hand side. While we'd like structured planting, we've grown attached to our bottlebrush tree, and people remark how they love the maple…so they both stay, for now at least. But we did give them a 'trim'.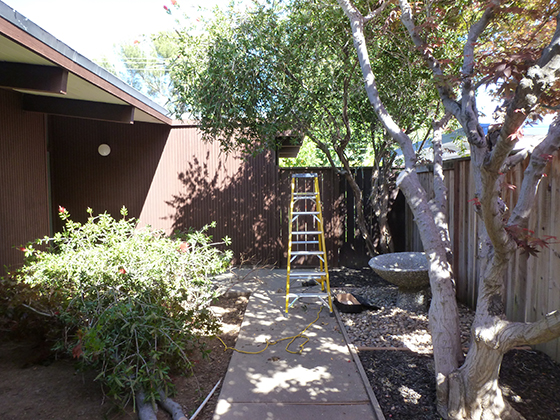 This became a major haircut. With a messy mass of branches gone, they look much better. And we haven't lost much coverage. This south-facing area needs some shade, and we'd like to obscure our neighbor's roofline if possible –blue and white just doesn't match our scheme.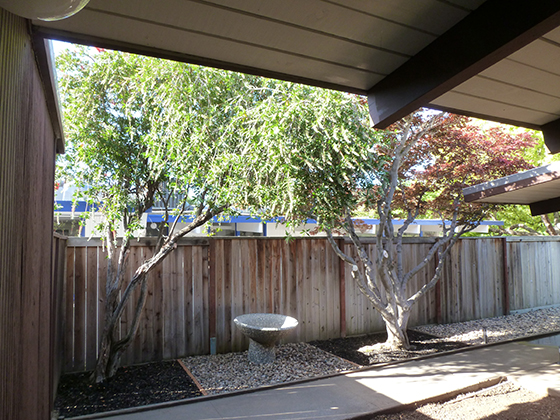 We snagged some wood (thanks K+G!) and added bark to sharpen the divisions between trees and rock. The aggregate stone fountain was yet another neighbor donation (thanks Jon and Jose!) –it's super-heavy and took three of us to cart it in.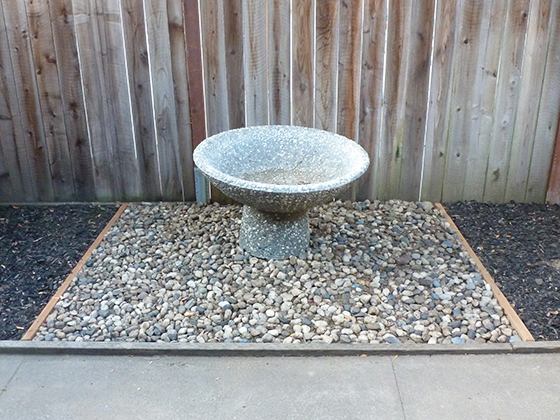 It has a metal cylinder (not shown) that protrudes up from the center and creates a globe-shaped fountain, fittingly. We just need to give it a good clean and buy a pump. Oh, and we need to route electrical from the house, under the path. Shouldn't be too tough.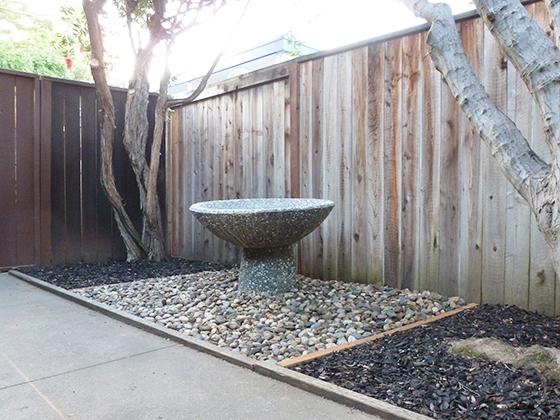 With that area tidied-up, our focus shifts to the the now empty void opposite. Our DIY approach makes this a low-budget, high-labor project. Adding planters/planting and pouring concrete pavers shouldn't be too difficult, right? We will find out.
Clearly, those orange panels need sorting too –they're in bad shape, and don't match our lime green door. Truthfully, we've made a little more progress here, but that's for a future post –this one has gone on way too long already.