This blog is hopelessly out of sync. Maybe we should stop doing, so I can start posting. Either way, I need to catch you up, starting with (you guessed it) more painting. Let me show you where we're at, via this floorplan (ours, minus one bedroom) from House & Home, July 1955.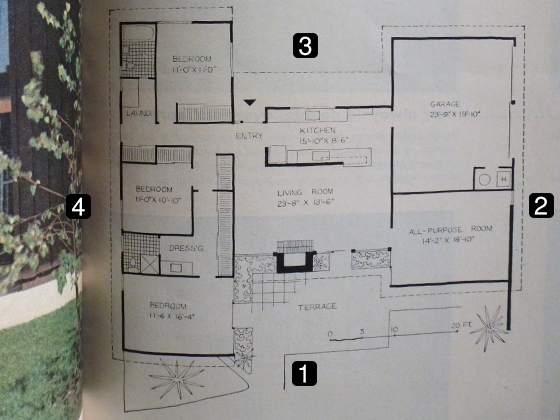 So far, we've painted all the walls around our patio area (1) shown below. That leaves the front (2), the courtyard entrance (3), and the rear (4). And that's the order we've decided to follow, starting with what's on show from the street.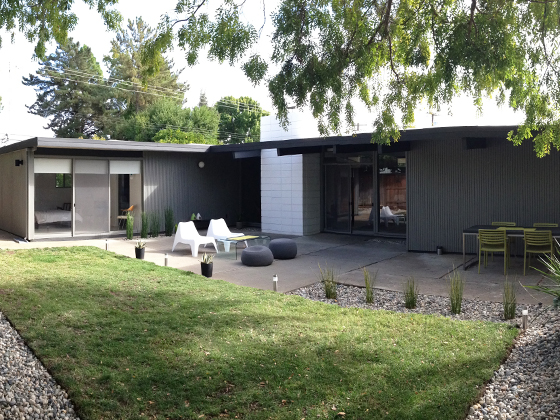 Just over a year ago, we installed this light fixture and Eichler number. Back in April we gave the cinder-block wall and cross beam a fresh coat of white. We also removed some wayward Loquat trees, and added some rock. And here's where we're at.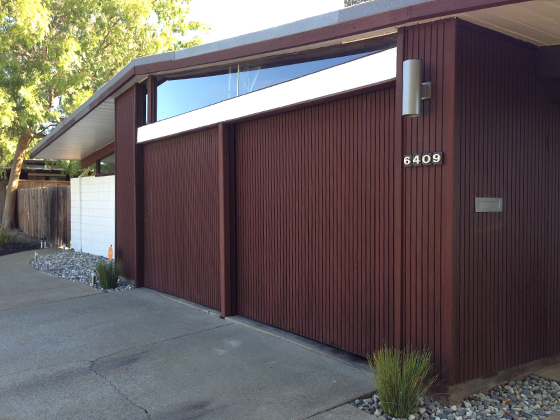 Tidy enough but very brown. And tired-looking, up-close. There isn't much siding on the front, so the task didn't seem too daunting. And it wouldn't have been, but for the heat. This was Labor Day weekend (see, I told you I was out of sync) and temps were 100+ degrees.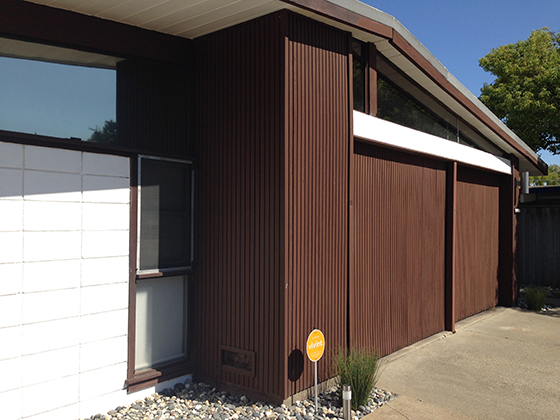 And the house faces west, so gets the blazing afternoon sun. At times, the heat was ridiculous. We were hot. And so was the house. After nearly 60 such summers, no surprise this front-facing siding looks a little rough. Surprising it's still here at all.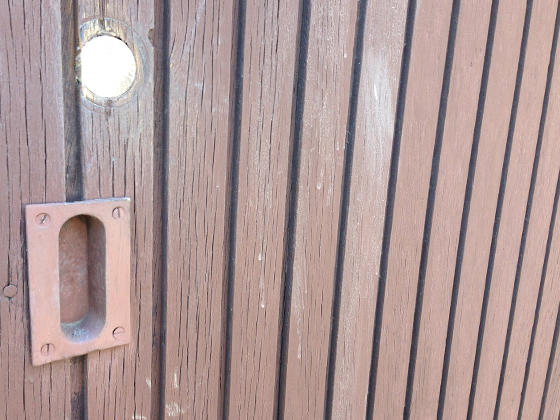 We punched-out a couple of old locks on the garage doors, and plugged them with dowels. We removed multiple hooks, nails, screws, staples, and two flag pole brackets –we're not about to hang a US flag (or an English one, for that matter) so they had to go.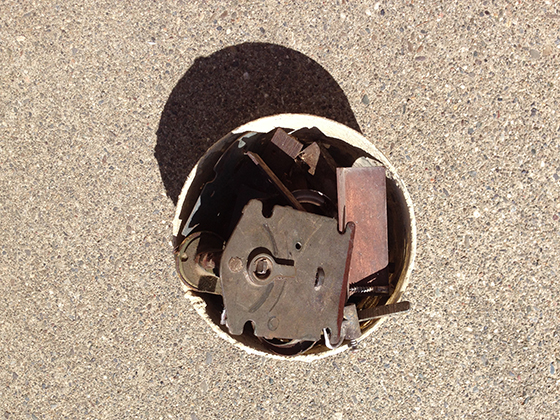 Once we were done taking stuff off, we needed to put something on –wood filler. And lots of it. Karen has developed a technique of tackling these fine surface cracks, by diluting the filler and painting it on. We used plenty of bondo too, mainly at the base of the garage doors.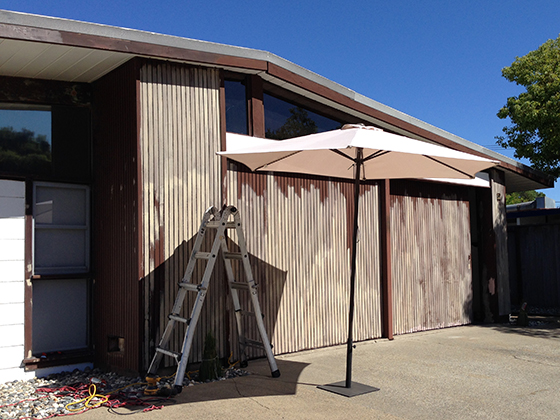 Come about 3pm, working out-front was almost unbearable. But we carried on, aided by this handy heavy parasol –great until you're too high-up. At times, we honestly shouldn't have been out there. But we were determined to finish that weekend. Including the beams.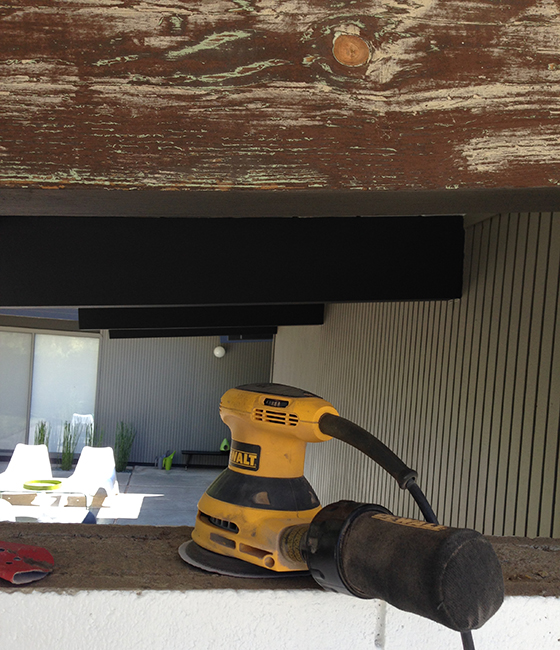 While sanding this beam (above our cinder-block wall) I used the patio view as motivation –hoping it'd soon look that good. We also re-sanded the beam above the garage doors, plus all the siding. Once prep was done (the whole of day one) we began painting.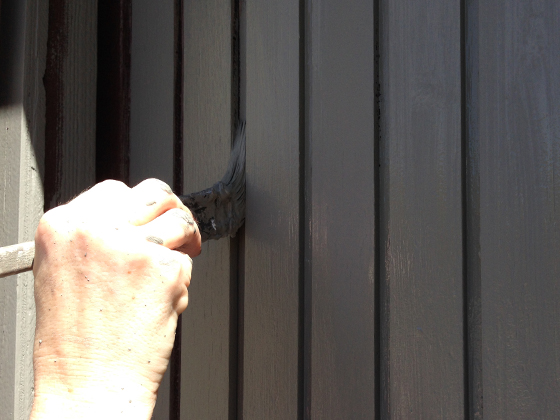 As usual, it's all about the grooves. This wideline siding is a pain, and the best way to cover the deep grooves is with a brush. Cut a long story short, we painted all the siding, plus the window trim (in Pier, by Behr). I also sanded this aluminum bug screen. Yes, sanded. Now it sparkles.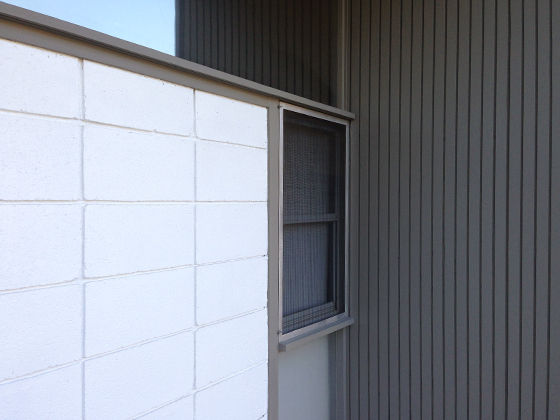 We also removed and re-sprayed our silver/gray light fixture. See pic 3 for the 'before'. Honestly, we were never happy with the color –we wanted stainless steel and got dull gray. Black is obviously a better accent for our scheme. Hopefully it'll hold up in the sun.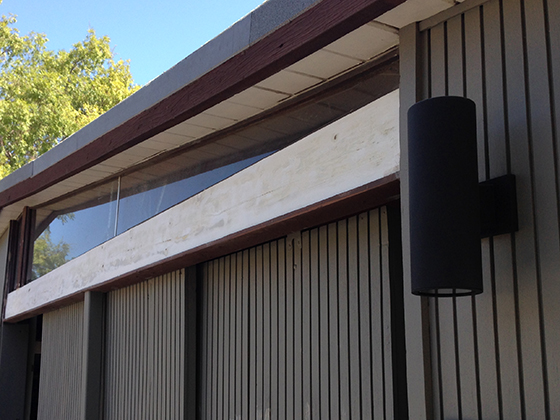 We spent hours on this white cross beam. Sand, fill, paint, repeat –eventually, the finish was pretty good. We used our custom-matched dark gray. We had considered painting it lime green (to mirror our front door) but decided against it.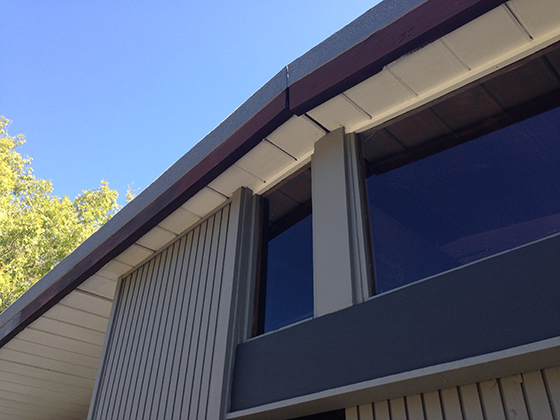 That just left the brown fascia. Ours is thicker than many neighbors. We guess it was built-up when our foam roof was installed, a couple years back. The top half is covered in unpainted flashing, and really stands out. We'd be painting it all dark gray.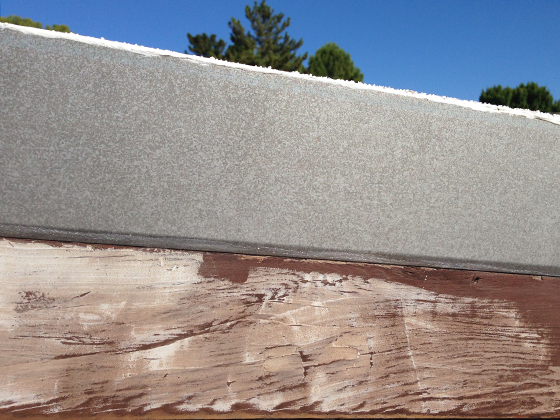 But first it needed some work. Initially we feared it needed replacing/refacing. There was a large gap between two boards in the center of the pitch, and some other sections had shifted a little over the years. Still, we took a stab at repairing it.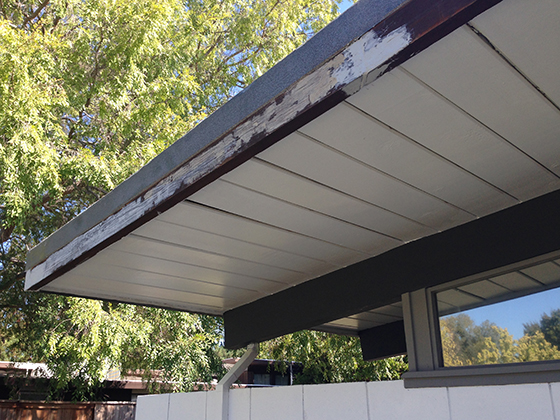 We bashed and nailed some pieces back into place. Then we restored the fascia's form, using bondo, wood filler, and plenty of sanding. We tackled the peak with this crazy-tall ladder, kindly loaned by our next-door neighbor –thanks Maria!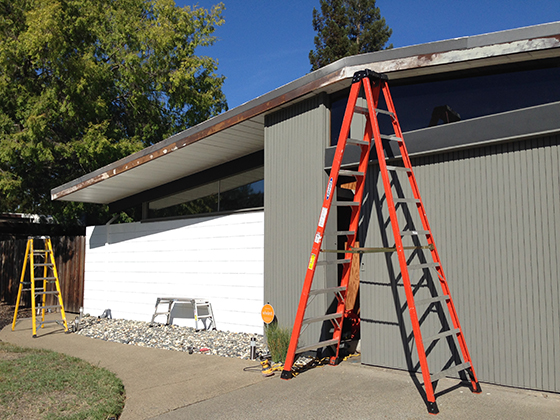 Once we were happy, we finally painted the fascia…a couple times. This made a big difference. We do still need to paint all the external ceilings (and internal, actually) but that's a project all of its own. One we'll tackle next year.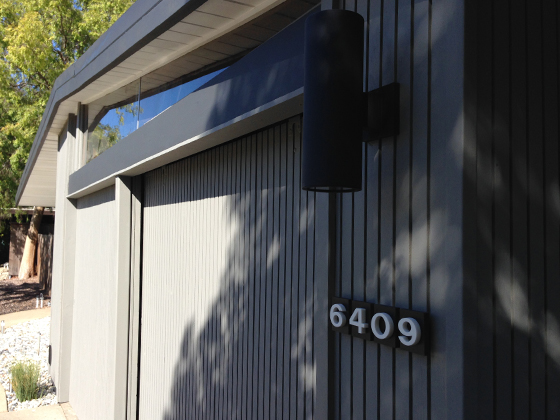 During this project, we got many compliments from passers-by. I get the sense it's not typical for people to paint their own house…especially in 100 degree heat. We're just pleased people can see we're making an effort. Hopefully it will divert attention from our front lawn.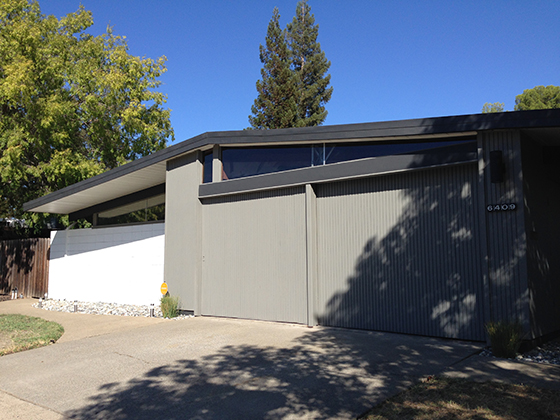 Brown is certainly the new green around here (and gray is the new brown, clearly). But we do have the drought excuse. Talking of green, I need to share our 'tweaked' front door color, and show you how our courtyard entrance is shaping up. Back with another update soon, promise.