Before we moved here, Sacramento nearly lost its NBA franchise, the Kings. The city kept its team, on the back of big investment, and promise of a new downtown arena. Two years and $550M+ later, it's complete. And it's spectacular. The Kings held an 'open house' last weekend, and we jumped at the chance to see it. Nothing mid-century about this building, but it's certainly modern. And some.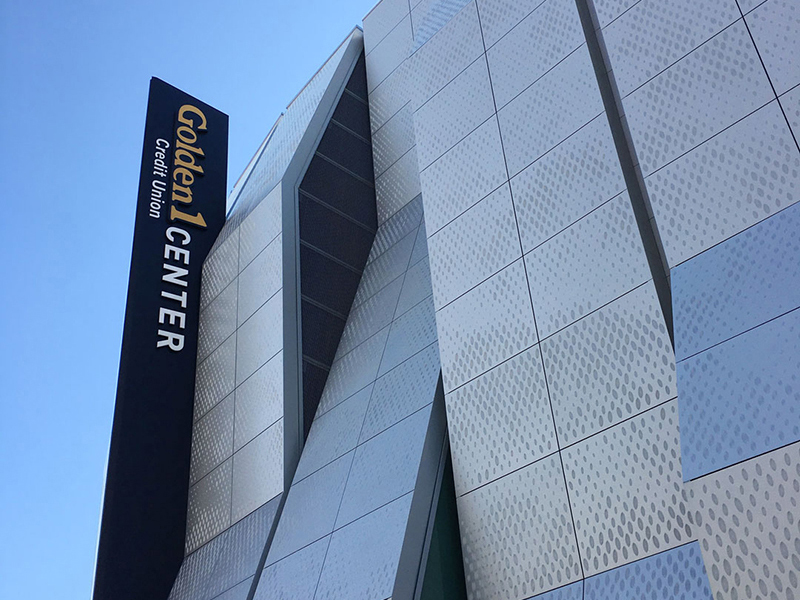 On approach, it felt like we were inside one of many renderings we'd seen. Kind of surreal. You can't deny the impact of the Golden 1 Center (so-called after a $120M naming rights deal). It stands in contrast to its surroundings, without apology. Visually stunning, and economically stimulating –triggering a wave of downtown construction, business growth, and public optimism.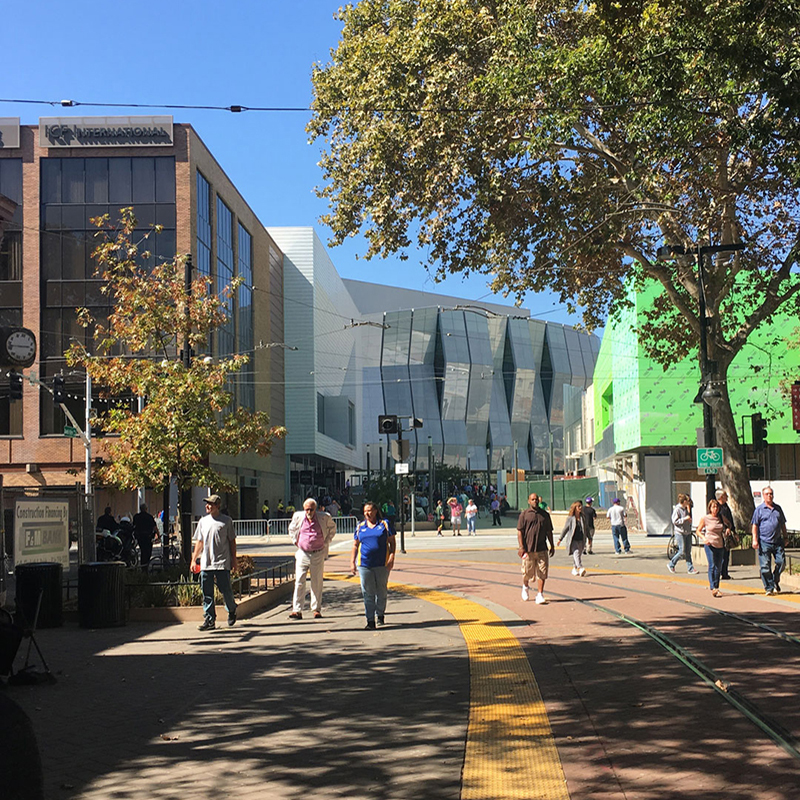 The building is designed to reflect the fabric of California, with a skin of regionally-sourced, recycled aluminum. Love those window cutouts, weaved into the undulating layers. Precast concrete comprises sand from San Benito, and rocks of Sierra limestone, to reflect the colors of the region.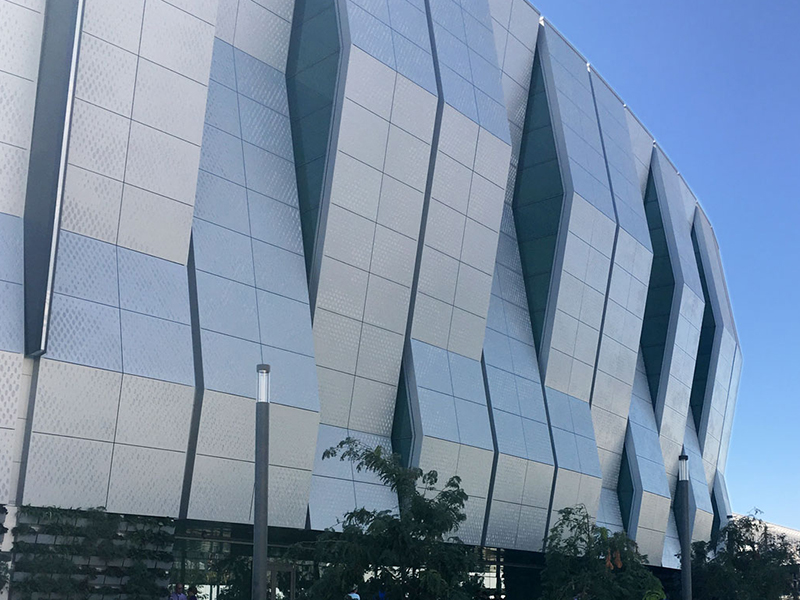 $5.5M of the Center budget went to the Art in Public Places program –the largest public art investment in city history. This was bolstered by contributions from Kings ownership, taking the total to $9.5M. Wowsa! Most notable, Coloring Book #4 –an 18-foot tall, mirror-polished stainless steel sculpture, by world-famous artist, Jeff Koons. Yep, Jeff Koons. In Sacramento. Seriously. The $8M price tag raised some eyebrows, but you have to admire the declaration of intent, for a city with big aspirations.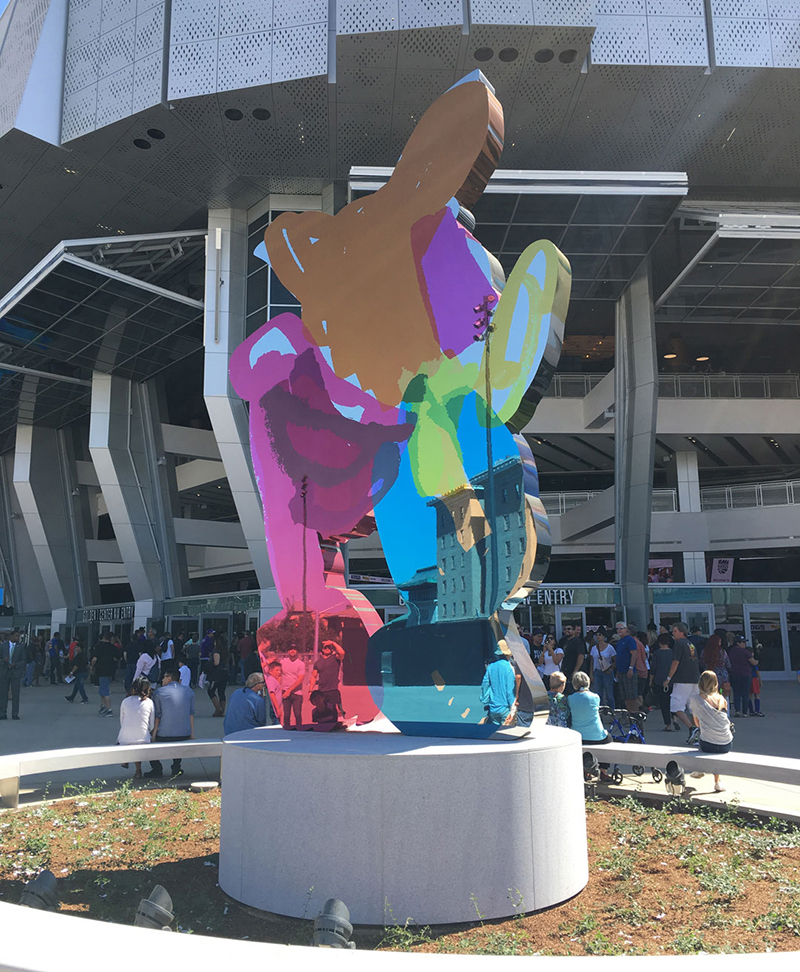 There are four further artist commissions, in and around the Center. Gale Hart, Sacramento's 'Godmother of Contemporary Art', contributed a giant dart-themed installation, along the L Street frontage and here, on the plaza. There are six of these darts, plus a terrazzo dart board, concrete numbers, and two bronze hands, framing the 5th and L Street entrance.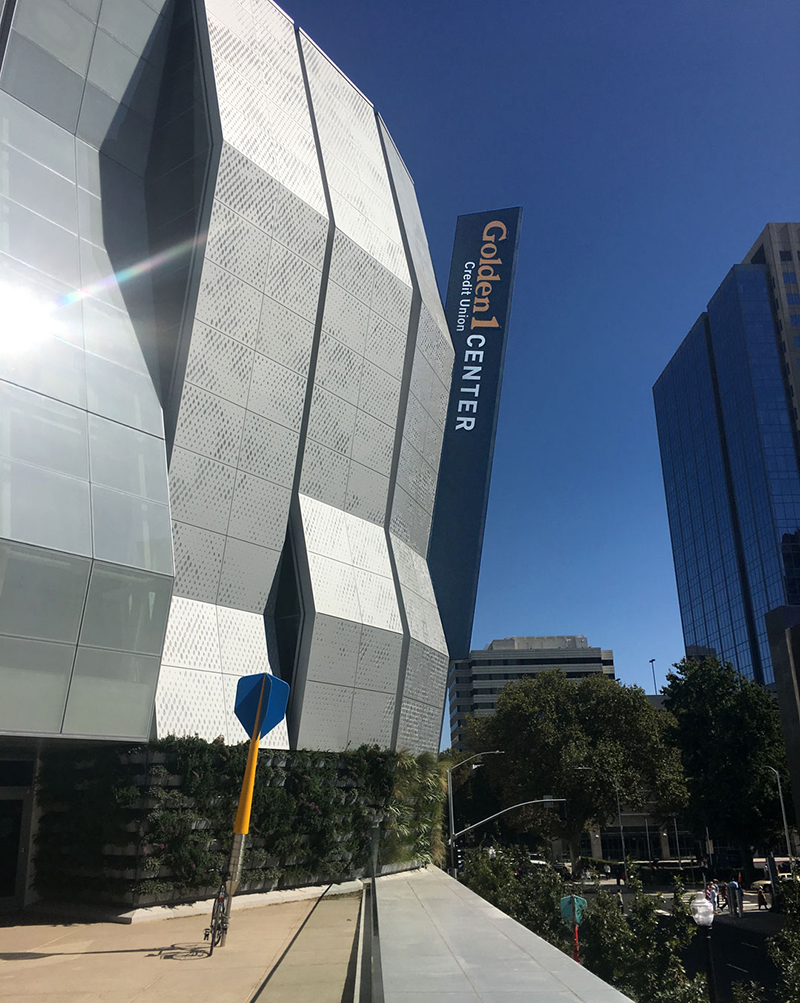 Each multi-colored dart is 10-feet tall, made from fiberglass and stainless steel. So striking and fun. Some people chained bikes to them –doubt that's an intended function, but they seem sturdy, so no harm done. We've always loved this building, opposite the arena –makes a great dart backdrop too.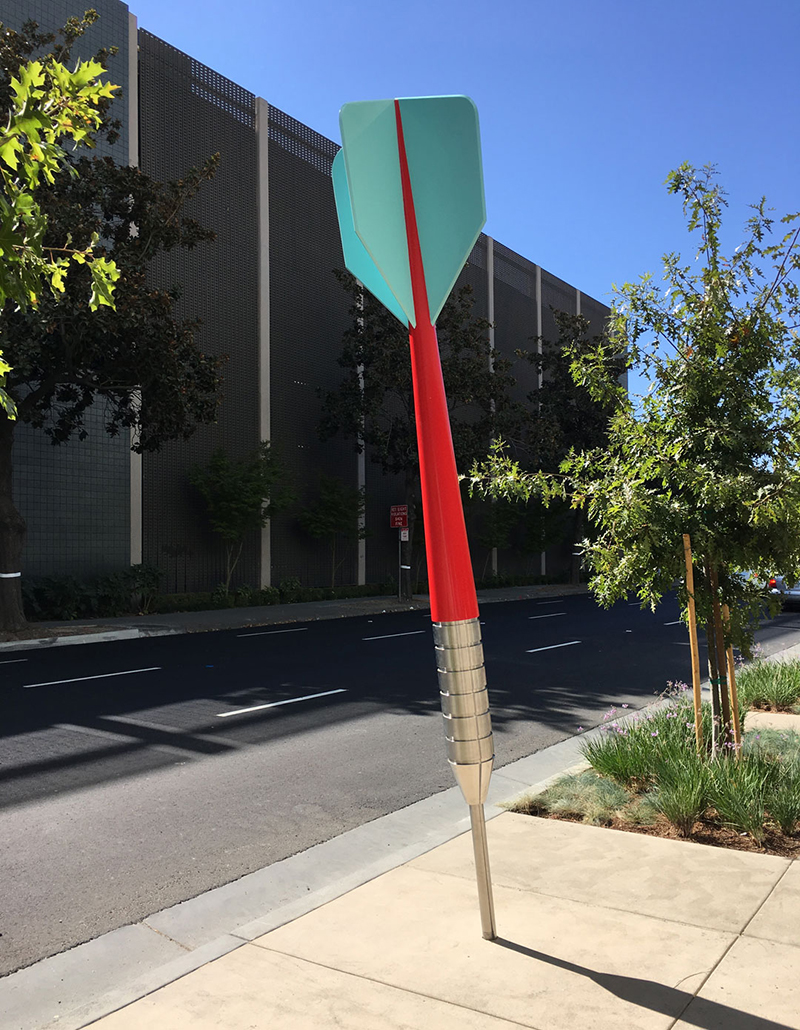 Also outside, a sound sculpture by renowned artist, Bill Fontana. Must confess we didn't observe this, but (apparently) an immersive sound experience is produced by a matrix of 34 small loudspeakers, distributed among planters on the plaza, and two facing 'green wall' sections. Speaking of which…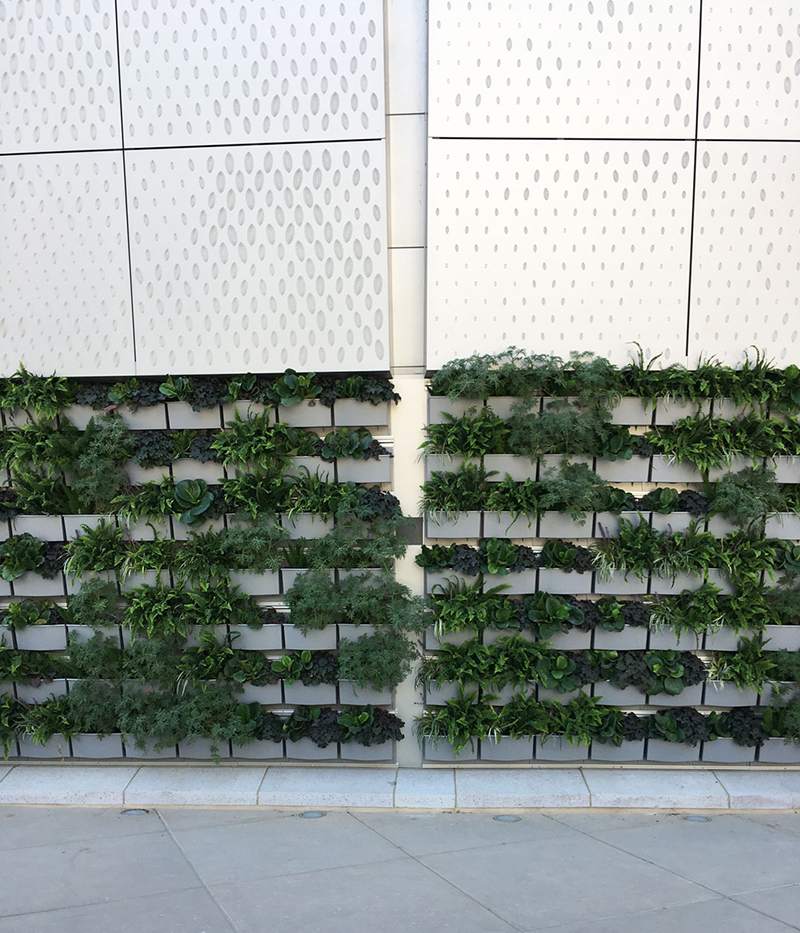 These intricate planter pockets are masterful. They line the building's exterior, creating a living wall of green, and a foil for its slick, commercial skin. Filled with local plants and edibles, all fed via drip irrigation, using water runoff, collected from the roof. We've been thinking about creating our own living wall, and now feel inspired. Ours will be slightly smaller.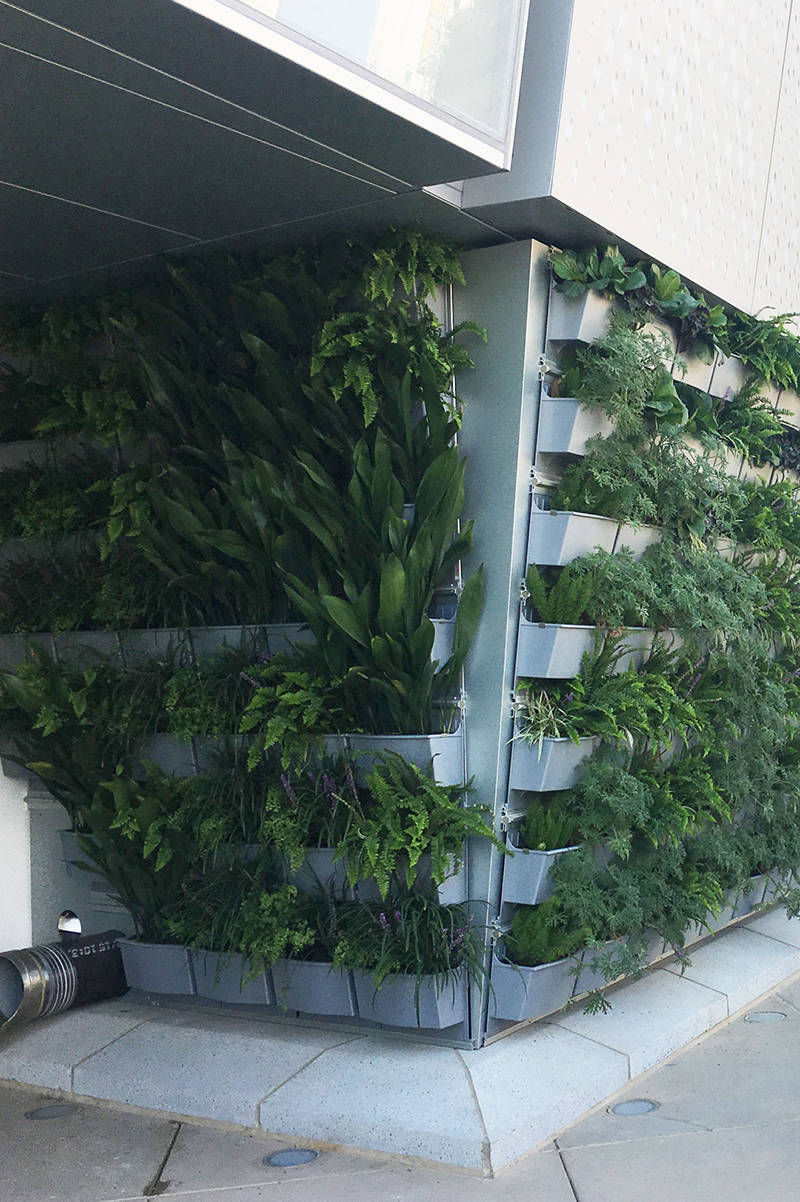 Sticking with green, this has been branded the world's most environmentally sustainable arena. That's not just hot air –it's the first indoor sports venue to earn LEED Platinum certification (the highest designation possible) from the United States Green Building Council. Also the first to be completely solar powered, cutting nearly 2,000 tons of annual greenhouse gas emissions.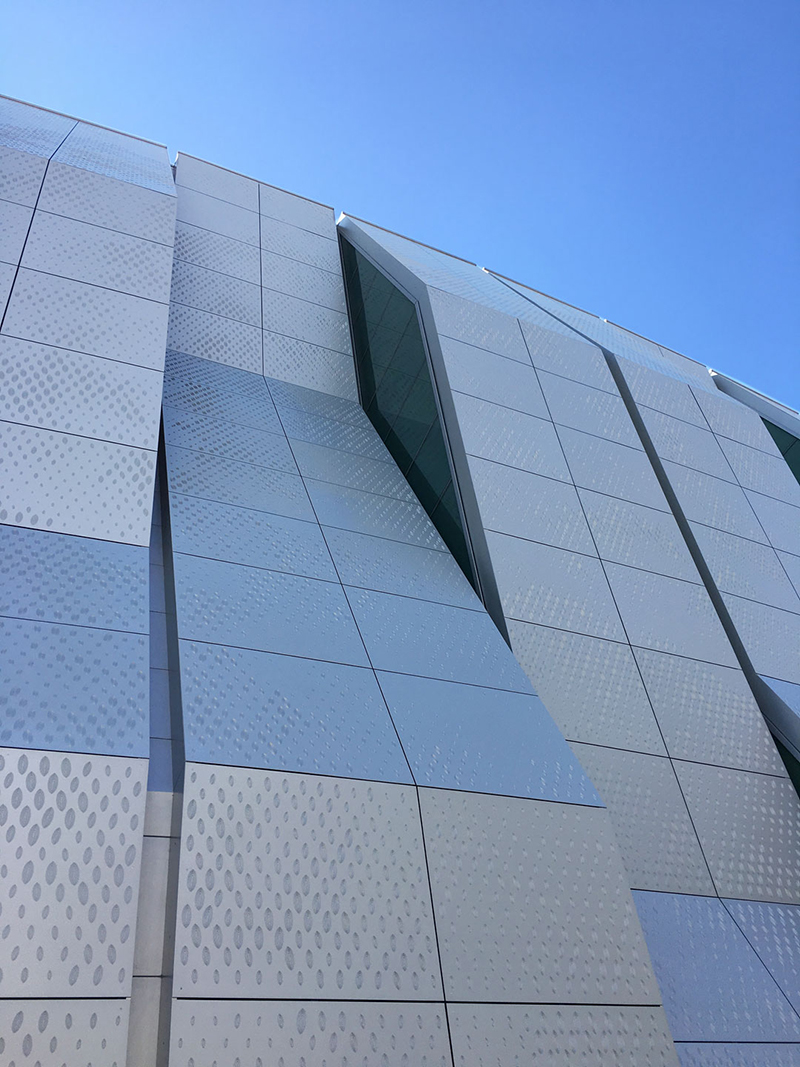 This entrance is open to the outdoors, thanks to five 40-foot tall hangar doors. They fold away, allowing the city's natural cooling system to do its thing –that's the Delta Breeze, for non-locals. And it's no myth, as we can testify. This regular blast of cool evening air makes even the hottest summer days very bearable.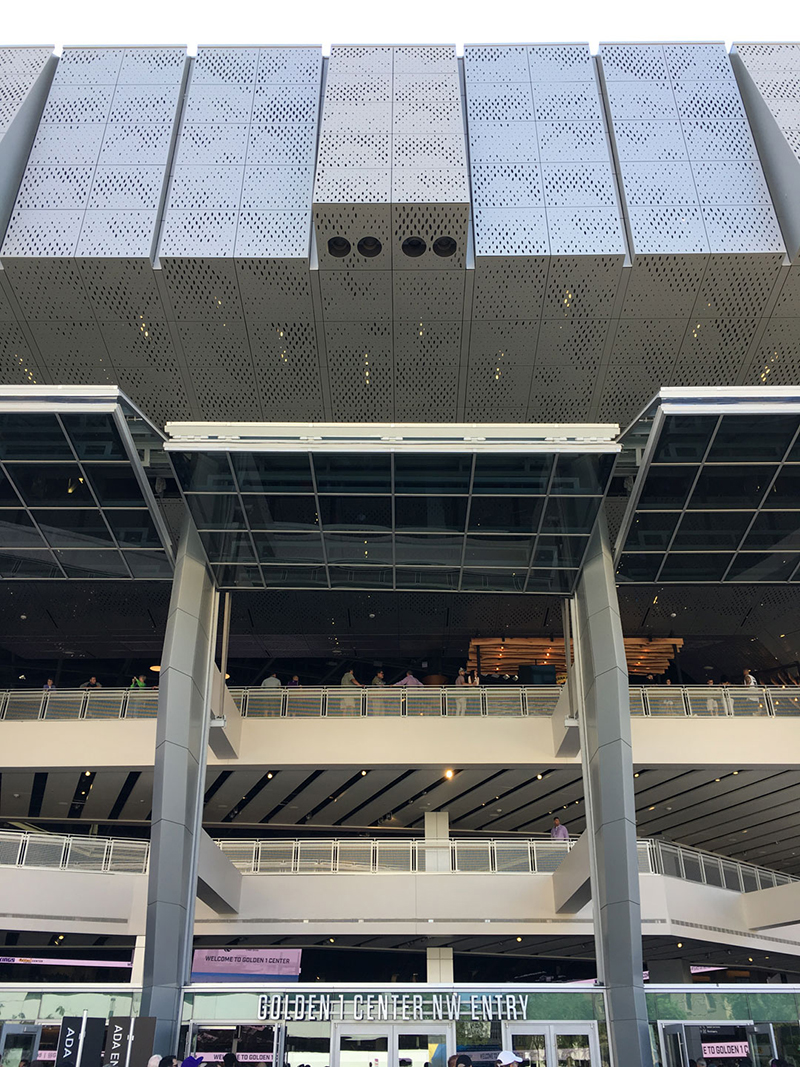 Looking up, the scale of these 'airport-sized' doors is impressive…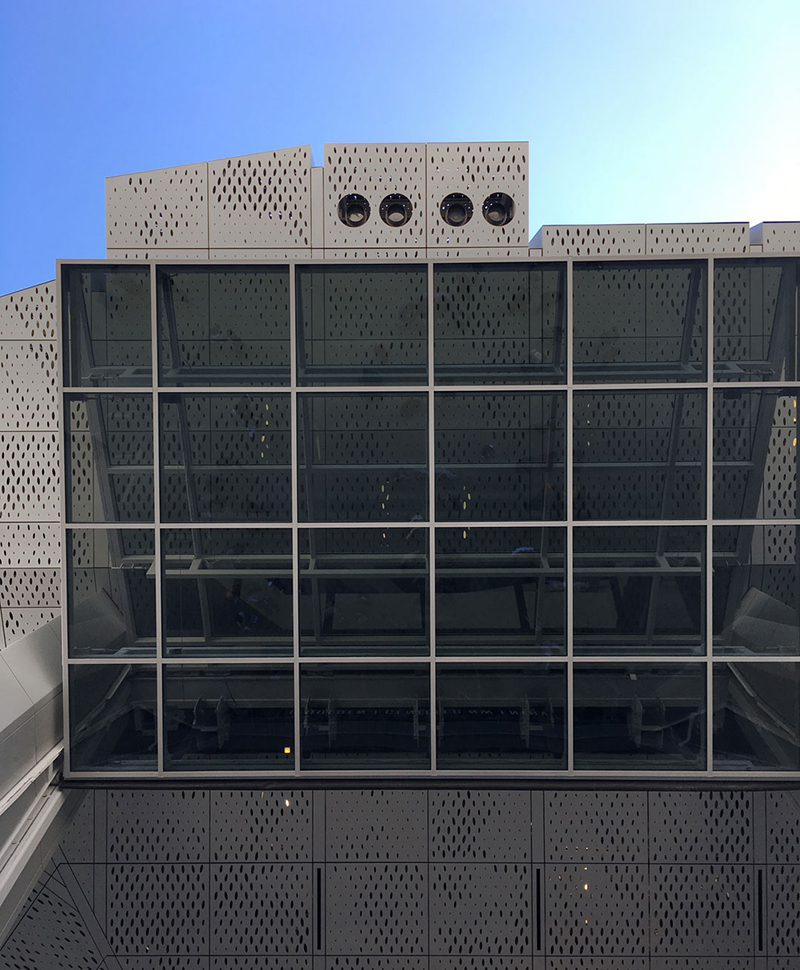 …as is this –the world's first 4K ultra HD videoboard. Also the NBA's largest, at 84 feet long. The tech doesn't stop there. This is the world's most advanced sports stadium (for now) with a 6,000 SqFt data center, 650 miles of fiber-optic cable, 300 miles of copper, and 1,000 Wi-Fi access points. That should do it.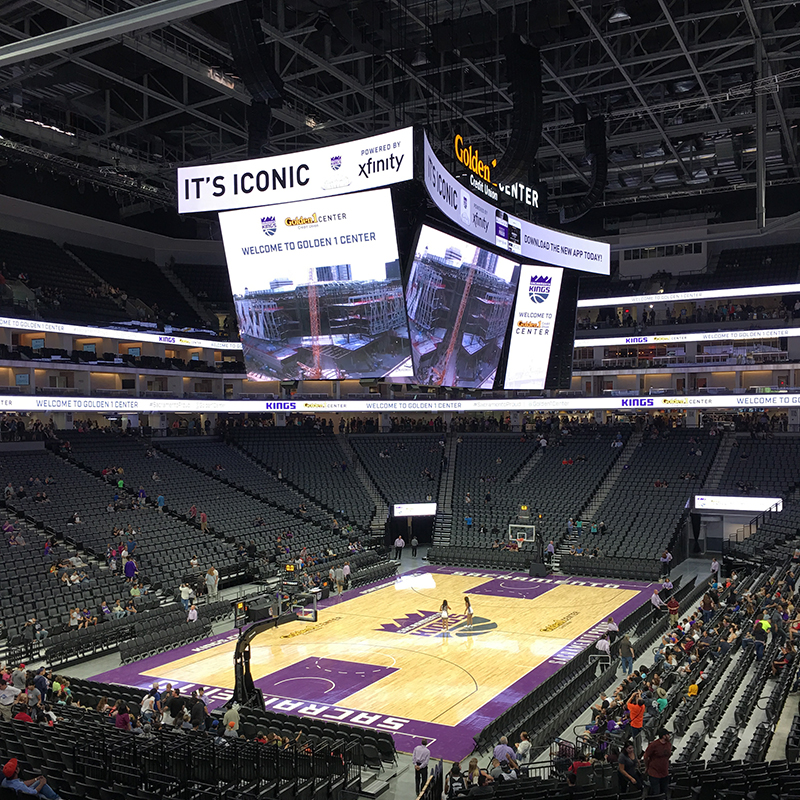 Inside, another installation, by local artist, Bryan Valenzuela. This sculpture features around 400 translucent glass spheres, in varying shades of turquoise and blue. Fittingly for Sacramento, the spheres represent two river channels, cascading through the arena's south-west escalator atrium. Love how those windows afford snapshot views of the outdoors too.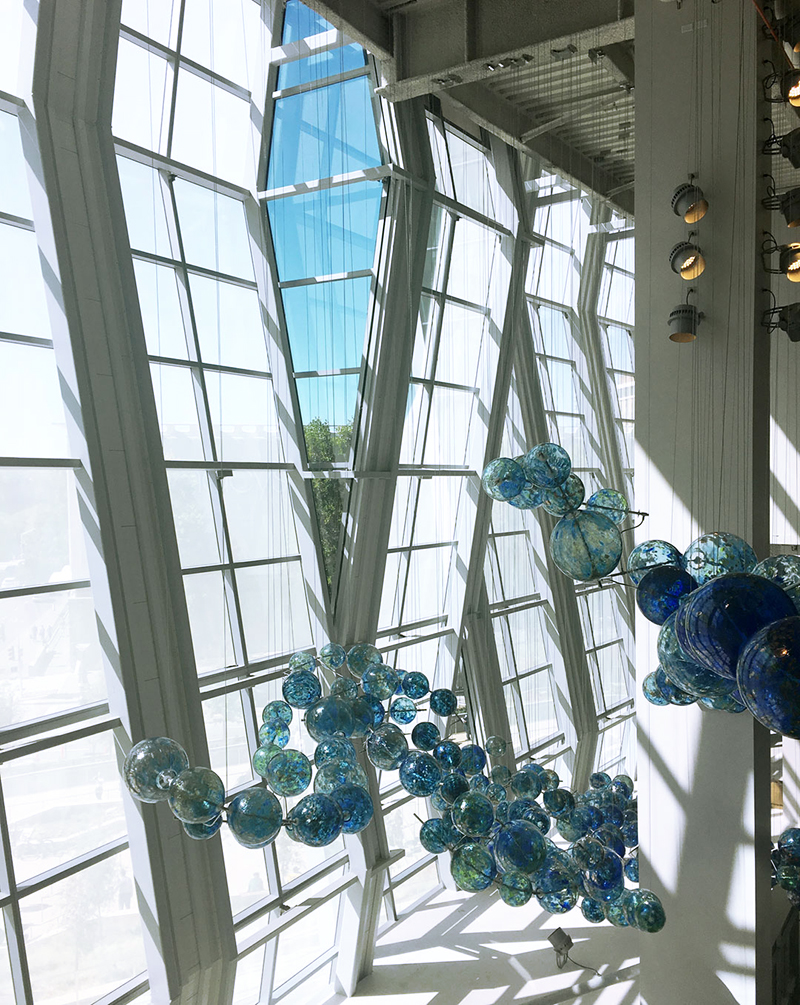 Somewhat predictably, we cooed at the Center's coherent branding. Simple pleasures. Modern signage, with minimal colors, clean typography, and stylized graphics. And we were pleasantly surprised by a distinct lack of purple –the team color, and probably our least favorite. The necessary exception was the court itself, and the plethora of team stores. Also pleased to see an all-gender bathroom. Go Kings!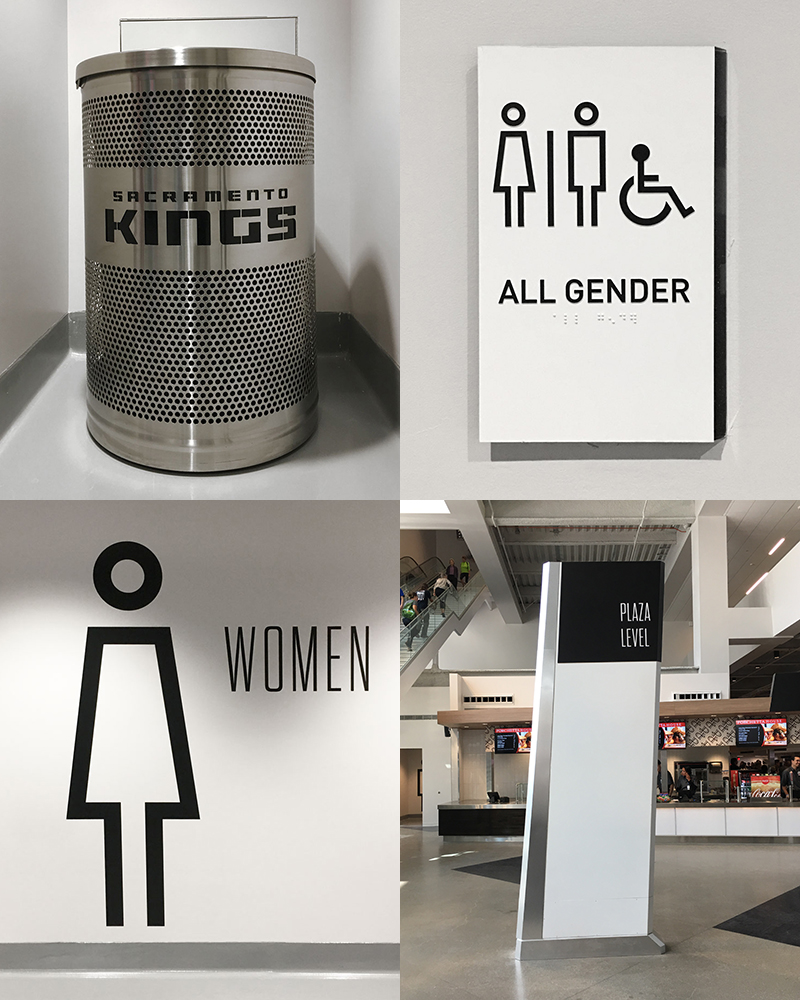 The mix of materials is interesting. Slick painted and polished surfaces, mixed with abundant raw concrete, visible ducting, and other structural elements on show. This gives the interior an industrial loft-like feel. Maybe too cold for some, but music to us minimalists. We just happened to stop at section 222. And I'm so glad we did –isn't this just about perfect?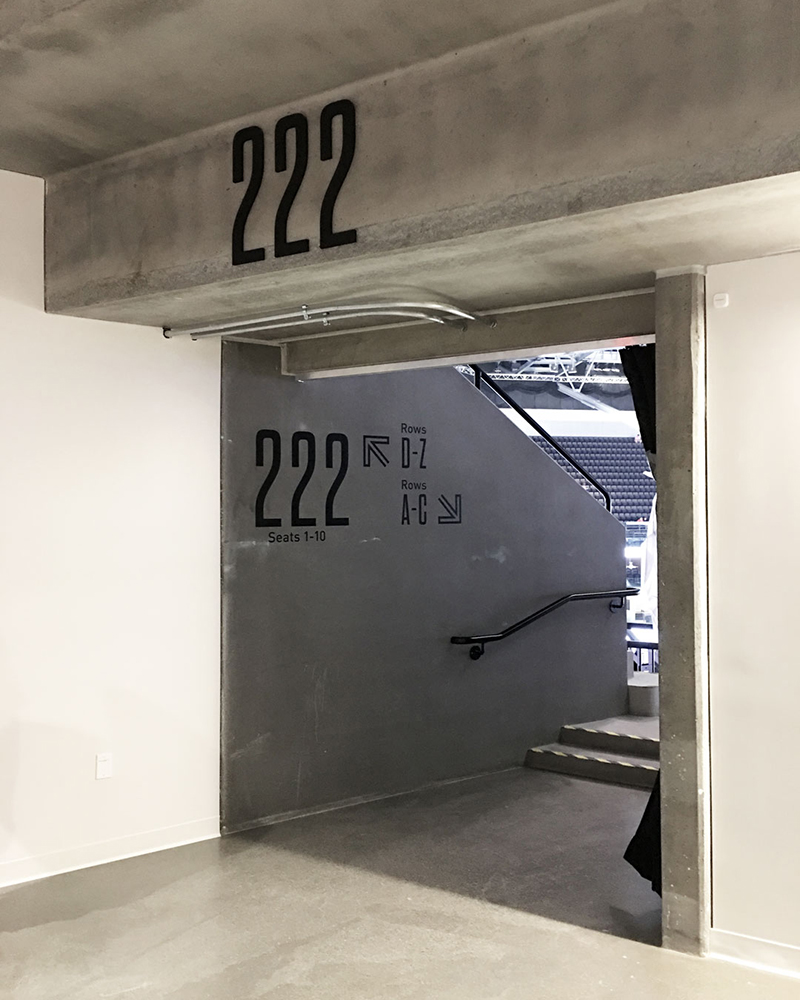 The Kings added vintage neon, thanks to a partnership with the Center for Sacramento History –six signs were picked from its collection, representing some much-loved bygone businesses. The signs were restored by Pacific Neon Inc, and installed for all to enjoy. Photos courtesy of SacMod's Zann Gates, also our friend and Eichler neighbor.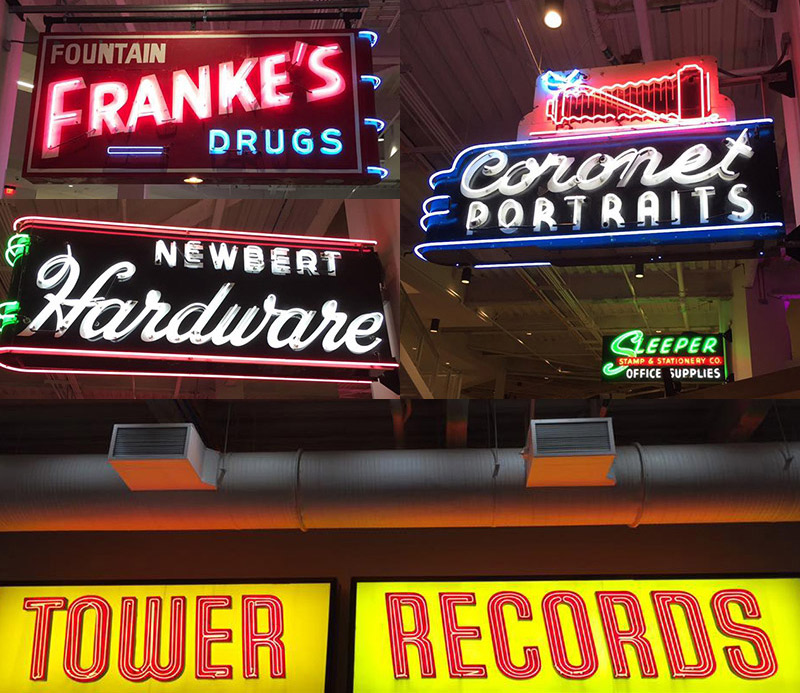 The Kings snubbed generic sports venue offerings, to back Sacramento's 'farm-to-fork' mantra. 90% of arena food comes from within 150 miles. And it's premium quality, served-up by highly-regarded local eateries. And there's a great beer selection…which I plan to take full advantage of. No food pics (sorry) but this felt like a good one to end with…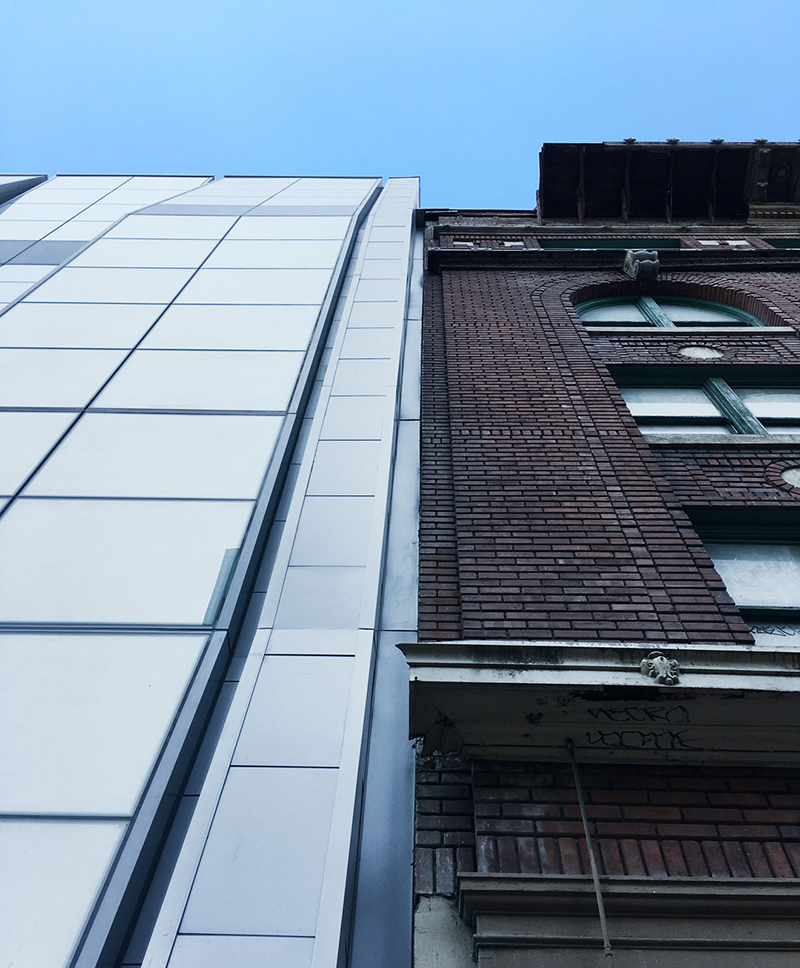 Love the juxtaposition, where the new arena meets the old Marshall Hotel building. This signifies a new era for the Kings, and for Sacramento. This former no-go zone is now home to a crown jewel, stimulating growth, and drawing people downtown. Speaking of which, we've booked tickets for a Kings game in November –we can't wait! We're so proud of our little big city, and love being a part of it.
Save
Save
Save
Save
Save
Save
Save
Save
Save
Save
Save
Save
Save
Save
Save
Save
Save
Save
Save
Save
Save
Save
Save
Save
Save
Save
Save
Save
Save
Save